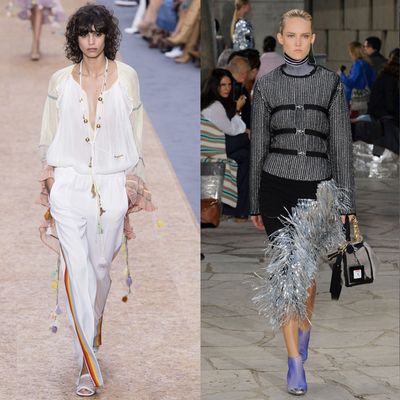 Chloe, Loewe, and Dior.
Photo: Imaxtree
Fashion month usually brings over-the-top looks and accessories designed with editorials in mind. But we always have to ask ourselves: What would we want to wear? Throughout Milan and Paris fashion weeks, the Cut brings you editors' picks, rounding up items from the runways we'd actually buy.
1. The innocent white underpinning-like looks at Dior were so pretty and Victorian, but the cropped chunky sweaters stood out, especially the finale in deep royal blue and black. All looks were accessorized with cool embellished chokers and scarves, and the shoes were some of my favorites so far this fashion month: pointed patent heels and flats with thick ankle straps.
2. Yes, the Rick Owens show exploded onto the internet with its models in suggestive, gymnastic poses, but the clothes were also great. I loved this black architectural dress. The asymmetric panel flowing over the back and the flat sandals look to me like no-fuss, interesting spring dressing.

3. Translucency and various types of shine were big ideas at Loewe, and this look, with a fantastic spangly skirt with tinsellike embellishment, would make for a great party piece (though I also loved it with the pared-down jacket it was styled with at the show).
4. Vetements has become so popular now that the street-style bait ditzy floral dresses and oversize army jacket sell out online instantly. I loved the new floral offerings and was excited about their take on everyday pieces like slouchy T-shirts, and I adored this fitted trench-shirt and light-washed denim.

5. Easy island vibes and athleisure ruled at Chloé, and the relaxed mood spread to eveningwear as well, like this white scoop-neck ruffly gown tipped with Rasta colors.