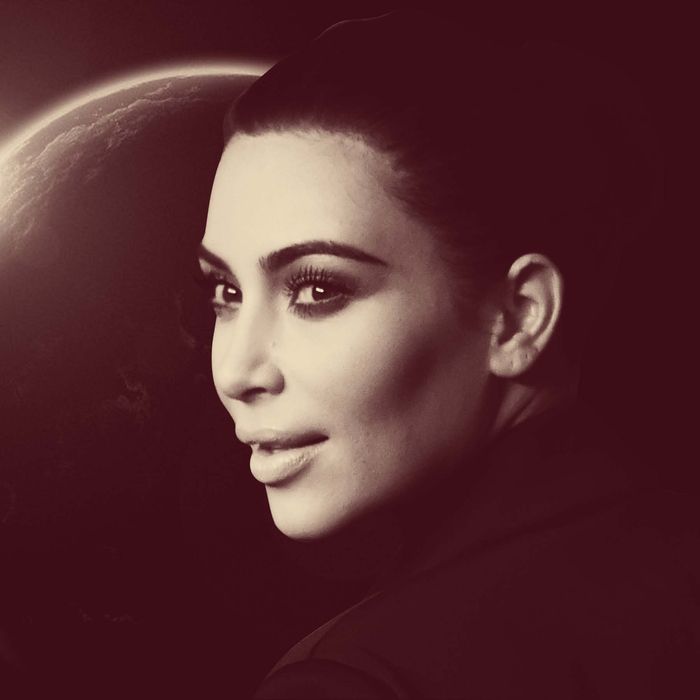 A world without Kim is barely a world at all.
Photo-Illustration: Photo: Jason Merritt/Getty Images
It's hard to believe we ever lived in a world before Kim Kardashian, and yet — according to "history" — the vast majority of human civilization predates October 21, 1980, the First Lady of reality TV's birthday. What did society look like before her sassy tweets, her beauty and clothing lines, her undeniable wisdom? Here's a peek at what the world was like on October 20, 1980.
• President Ronald Reagan was telling the nation about how much he likes peace.
• Iran and Iraq were pretending they didn't know what the word cease-fire meant, as the Persian Gulf War entered its fifth week.
• White supremacists gathered for an hour-long Nazi rally in Evanston, Illinois, but were chased away after five minutes by thousands of counter-protesters throwing eggs and rocks at them.
• Johnny Carson was establishing his own television production company to produce The Tonight Show With Johnny Carson and Late Night With David Letterman.
• Experts were already debating whether smoking weed is good for you.
• A judge was deciding whether to allow a hazardous waste dump in Heard County, Georgia.
• A Chicago tailor was offering to change the shape of lapels or narrow ties to keep men from becoming too anguished over keeping up with fashion trends.
• A man named Addison Tart was introducing a new crop to North Carolina, asparagus, which some called "the Cadillac of vegetables."
• Feds were entering stuffed Bugs Bunnies and Tweety birds taken from the South Alabama State Fair into evidence for a case against those who were selling them without copyright permissions.
• Volunteers were taking residents of a nursing home in Junction City, Kansas, on a trip to the local lake for a picnic.
• More than 1,200 reserve troops were staging a war simulation using computers.
• Nanci Newton was teaching a workshop for women in Madison, Wisconsin, about how to handle street harassment.
The world without Kim: like the world with Kim, but with fewer selfies.