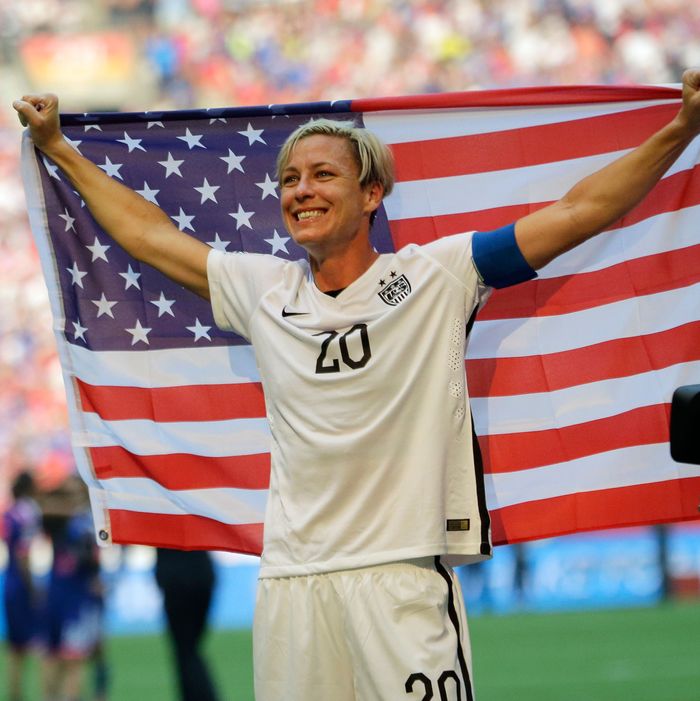 Abby Wambach.
Photo: Elaine Thompson/Corbis
Abby Wambach has had a hell of a career. She's the leading scorer in the history of international soccer (having scored 184 goals in 252 matches in her career, more than any man or woman), she helped take the USWNT to a World Cup win this year, she's won an Olympic gold medal twice in her life, and in 2012 was named FIFA's Women's Player of the Year. She's played in four World Cups and on three professional American soccer teams.
And now she is retiring.
After a long-overdue visit to the White House on Tuesday, where President Obama declared that "playing like a girl means playing like a badass," Wambach announced her retirement from the sport in a statement on USSoccer.com. The legendary athlete will continue to play for the USWNT through the end of December and then cap her 15-year career with probably a huge party. "While we still have more work to do for women's soccer, after bringing the World Cup back to the United States this summer, I'm feeling extremely optimistic about the future of our sport," Wambach said. "It's been an amazing, wonderful ride, and I can't wait to see what the next chapter of my life brings."
We'll miss her, but it's surely not the last we'll see of the spectacular forward. Perhaps coaching is in her future?