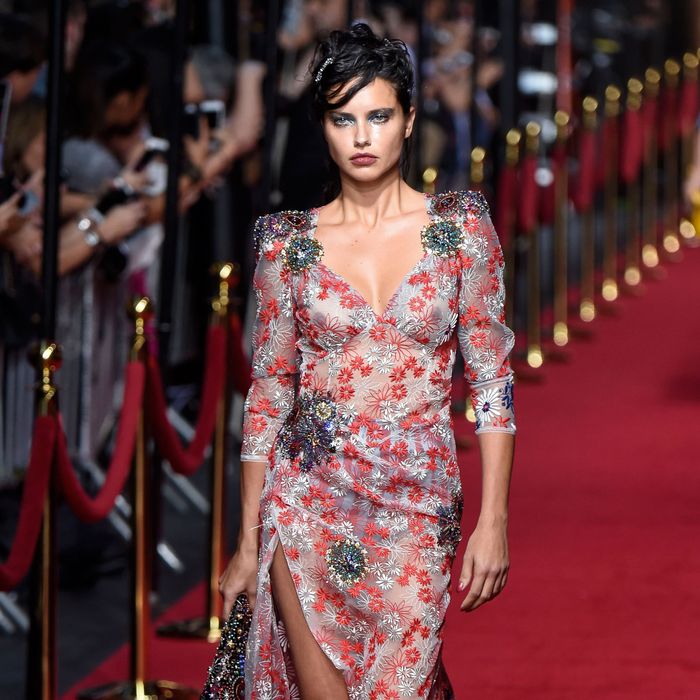 Adriana Lima.
Photo: Victor VIRGILE/Gamma-Rapho/Getty Images
Adriana Lima is one of the most famously sexy women in the world, making it no surprise that Marc Jacobs would call on her to be the face of Decadence, his sultry new perfume. Over the summer, the Cut spent some time talking to Lima. Click below to watch an exclusive behind-the-scenes video of her shooting the ad, and learn her thoughts about boxing, diets, and what it's like to be a first-time actor.
What is your first scent memory?
Jasmine — my mother always had it around her garden and it always brings me back to my childhood when I smell that.
How would you define decadent?
This fragrance is very sophisticated, glamorous, and playful, and helps you feel confident. We worked with Steven Meisel, and I was in this beautiful boudoir living room, drinking Champagne and enjoying myself. This is the character — a woman that's confident and sophisticated and has a little bit of a Cat on a Hot Tin Roof vibe. She's playful and she's good, but she's not afraid to go bad, and that's very intoxicating.
Personally for me, decadence feels like fragrance, a beautiful dress, going to the Met Ball, sitting next to Marc Jacobs at the dinner. And I love Japanese food and everything about it. And if I would pick a decadent dessert, I would say chocolate cake with vanilla ice cream on top, like at Nobu and Mr. Chow.
What is your morning routine usually like?
I usually get up around seven, shower, prepare my skin, put some oil on my face. I like natural things to moisturize my skin, and then I put my perfume on, and I'm good to go. A lip balm and not too much in the morning. I tend to work out in the morning. I take care of the kids first and then I go to the boxing gym. For breakfast, I'll eat different things like oatmeal, egg whites, and fruit. I have to have my coffee every day.
Boxing seems to be unusually popular right now.
I've been boxing for many years. I first heard about it when I was 6 from a girlfriend of my mom's. I remember her coming to the house and showing her boxing gloves. I thought it was the coolest thing. I'm so happy that women are approaching this sport more. A lot of people tend to think it's very aggressive, but it's not. It looks like it is, but it's not. It requires a lot of coordination, and I feel like women are more coordinated and it's actually easier for us to do it than men. It's also empowering for women because you realize how strong you can be. I started when I was 19. That was the first time and I've been going until now. I can't stop. I do it as much as I can. If I can be there every day, I will.
I know you do extensive preparation prior to the Victoria's Secret shows. What kind of preparation did you do before shooting the video? Was it as intense?
It's a little bit different because we also shot a film for the perfume. I had to incorporate a certain character, so it takes a lot more concentration. I had an idea about the fragrance and what it was going to be. I started to watch Cat on a Hot Tin Roof. I do want to be an actress someday and I had done different roles before, but this was the first time I was playing the character and I went full-on.  
After getting in character with hair and makeup, I thought of this sophisticated, confident, playful woman that is extremely powerful, but people are not afraid to approach her. She embraces herself and her flaws and is confident in her own skin. That's what I tried to show: femininity, and delicacy, and yet being powerful.
A few years ago, there was a lot of press about your diet for Victoria's Secret and how you would work out very intensely before the show. Do you regret mentioning that?
I never mentioned that, actually. It was a misunderstanding. Boxing is a very intense workout. So you need fuel and energy and food. It's important for me to eat healthy to be able to perform while boxing.
Are there any kind of Brazilian beauty secrets that you believe in or follow yourself?
It's in the water, I think. The coconut water. I do drink a lot of it, and that's something that's really amazing for the skin. If you have a tough day and want to treat yourself, you can soak your skin with cotton pads and ice-cold coconut water. I prefer natural coconut water. Every time I go to Brazil, I get a chance to try it. Here, I go to Chinatown.
You mentioned wanting to become an actress. Is that something you've always wanted to do or a recent interest?
When I was in school, I would do different plays. I did not realize I wanted to act until I started to be a model, because sometimes you get to play different characters as a model. Slowly, I have decided it was something I would like to try. I don't know how talented I can be, but I would like to give it a shot.
There are a lot of models that are venturing into acting, so it seems like a natural segue.
I hope so, and I hope that it works out, but I know that I can't just go and be an actress. I know that I have to study. I have a long way to go, but we'll see.
This interview has been condensed and edited.