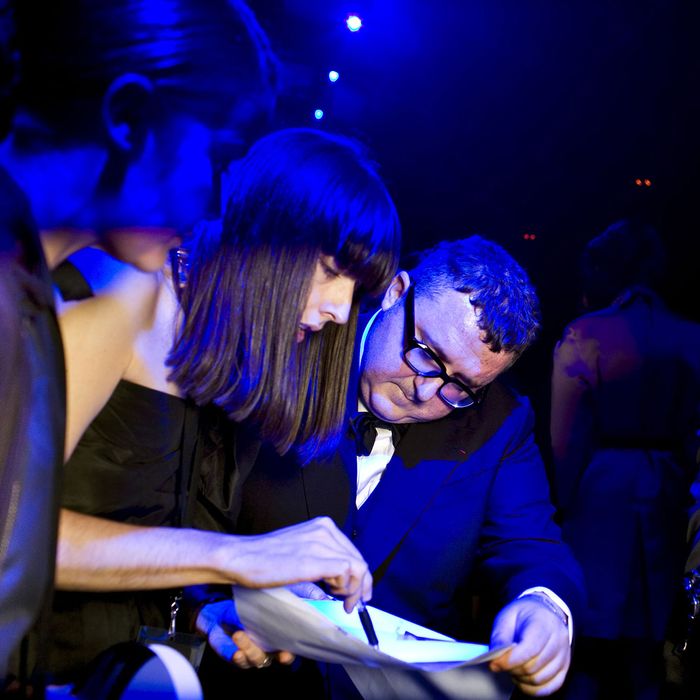 Alber Elbaz and his team.
Photo: Benjamin Lowy/Getty Images
Fashion is fickle, and loyalty can be hard to come by. But it sounds like Alber Elbaz doesn't have that problem. After reports surfaced that the designer's exit from Lanvin didn't exactly come about by choice, his team has rallied around him (even reportedly chanting "Alber, Alber Alber" in unison at his departure). Representatives from the employees' works council went on French radio station RTL to lobby majority shareholder Shaw-Lan Wang to bring him back into the fold. (Elbaz cited Wang yesterday as the person who made the decision to dismiss him.)
Among the revelations from the radio show: Elbaz texted members of his studio "I love you" and was in tears at his departure. Also, the older petites mains (specialized workers who do fine sewing in the atelier) were especially fond of him because he would send his whole team flowers after the show.
Even if Wang didn't tune in to the broadcast, she might end up hearing from the group soon. If the direct approach does not work, the council spokespeople said they have been in contact with a lawyer and may turn to Paris's commercial court for recourse. Elbaz, who had been at the house for 14 years, seems to inspire no small amount of devotion.