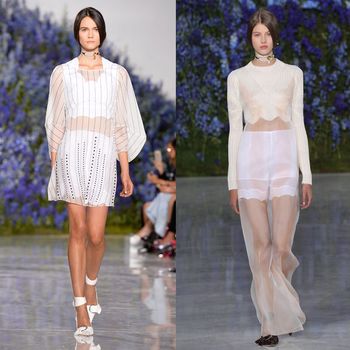 Dior spring 2016
Photo: Getty Images
The Christian Dior show that walked Friday at Paris Fashion Week had a lot of moving parts, from a complicated botanical backdrop, to front-row star power, to designer Raf Simons's always-unexpected take on modern dressing with a historical bent. Here, some of our favorite moments from the show— which, yes, included backstage Nutella crêpes.
Rihanna emerged from fashionable hibernation, wearing an off-the-shoulder pink cape-dress and a fur wrap.
Gigantic lavender walls (described in the show notes as a "landslide of flowers") covered the Cour Carrée du Louvre; inside the venue, they lined the exit to the runway.
We've been seeing pointy, ankle-strap flats throughout Fashion Month, and Raf Simons's models tiptoed past the lavender in shiny versions that buckled at the toes.
The jewelry was intense: thick, Baroque-style chokers worn over ribbon collars and studded with jewels. (Think of a punk take on the cameo.)
All-white looks have become a signature for Simons at the house. He showed scalloped matching sets with sheer panels that hinted at something beyond innocence, and even managed to make a parka light and airy with free-floating layers and floral embellishments. Some dresses sported flying tails that looked like the training-wheels version of a train.
Flashes of midriff aren't going anywhere, if Simons has anything to say about it. Many of the looks bared the upper stomach.
The final looks came in candy colors with sheer panels and intricate embroidery; it's just a matter of time before we see them on Jennifer Lawrence or Marion Cotillard.
As for what Suzy Menkes made of all of it, who knows?
Most crucially: Backstage, there was a woman making crêpes with Nutella. Can we import her to New York Fashion Week to jazz up the sad fruit plates backstage?