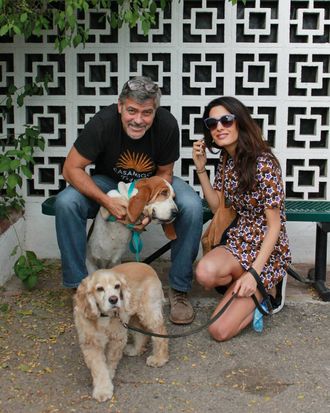 The family portrait.
Photo: San Gabriel Valley Humane Society/Facebook
Amal Clooney and her goateed husband in dad jeans and a Casamigos tequila T-shirt welcomed a new member to their family on Wednesday. Strangely, it doesn't resemble either of them. Millie, a four-year-old rescue dog who was being sheltered at the San Gabriel Valley Humane Society, is a basset hound who was discovered begging for scraps outside a restaurant earlier this month.
Millie will want for nothing now as Amal (who seems like she really loves dogs!) and George take her into their loving home. She'll be joining the Clooney's other rescue dog Louie, a cocker spaniel, at the Clooney residence, where Eric Clapton albums can be heard coming from George's garage on Sundays.