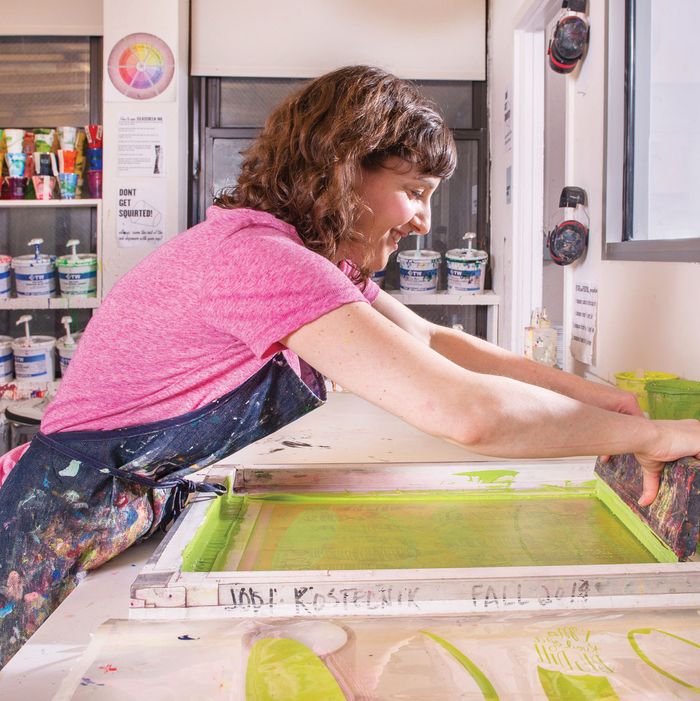 An "Artisan" at work.
Photo: Courtesy of Amazon
Today Amazon.com launched a new section of its website called Handmade at Amazon, an Etsy-esque virtual storefront that celebrates all things artisanal, locally made, and factory-free. The Seattle-based shopping monolith has had a year of public-relations blunders and now seems determined to rebrand itself as a place where people matter, which, depending on how much you are turned on by free shipping, could be something you never cared about in the first place.
The pitch of Handmade at Amazon is familiar to those who have spent even a modicum of time in Brooklyn or Portland. And it's not exactly a secret that the last decade has seen a craze for all things twee, one-of-a-kind, and locally brined. But while Etsy had 54 million registered members at the end of 2014, Amazon has 244 million people in its customer base. With Handmade, it's essentially taking the Brooklandia brand and extending it across the world. (Which isn't to say that all things in the already extensively populated stores come from New York and the Pacific Northwest, but with the press photos of a burly bearded man and a teal-blue paper tag as a logo, it's not hard to see where the inspiration came from.)
But should you use it? It's not a tough sell: The storefront is organized so that you may shop according to which of the 85 places around the world you'd like to buy from. Interested in some Italian hand-blown glass trays to display on your dinette? They aren't hard to find. Much like Amazon.com's other sections, the filters for finding what you're looking for are so user-friendly as to be almost scary. A Prime-eligible handmade gift under $25 that comes straight from Florida can be reached in three steps. Will it be what you want? It all depends on if you're interested in the whims and stylistic choices of "the Artisan" (a term Amazon insists on capitalizing for due gravitas).
Ultimately, though, it's devastatingly transparent what Amazon is trying to achieve by building out this new section of its site: a chance to take a whack at Etsy's share of the artisanal-goods market. While Etsy's brand has seen its own share of mockery, a shopper who browses the site often comes to realize quickly that it's not all bird tea cozies, letterpress cards, and Zooey Deschanel aprons. A cursory look through Handmade at Amazon's reveals that, by contrast, its aesthetic — at least for now — will be heavily twee. What the future holds — and if sellers will migrate from or two-time Etsy in favor of Amazon — is yet to be determined.
But there is one thing that Amazon offers that Etsy no longer does. Handmade insists that every product in its stores is "factory-free and handmade by an Artisan." In 2013, Etsy announced that it would allow sellers to hire outside workers and manufacturers to produce their goods as long as it was clearly stated on the "About" page of their stores. This decision caused a slight uproar for Etsy's single-person operations who insisted that allowing outside manufacturing would make it too difficult for their businesses to keep up. But perhaps these sellers will move over to Amazon now, and we'll see David getting into bed with Goliath. It shouldn't be a problem, as long as they're sleeping on hand-woven sheets.