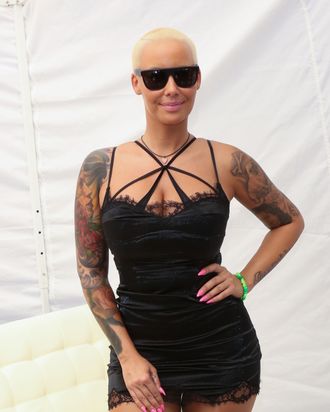 Amber Rose
Photo: Paul Archuleta/FilmMagic
Amber Rose is an oft-misunderstood figure in pop culture. Kanye West dated her then slammed her. She was married to Wiz Khalifa, who then later implied in one of his songs that she was nothing more than a stripper. But as is the wont of the woman, Rose has stayed resilient through it all, and now is here to affirm that we are not the titles that the world forces on us.
In this month's GQ, there is a profile of the entrepreneur, model, activist, and mother. Rose addresses her past, her incredibly cute child, and the way she herself may have formerly slut-shamed another woman, referencing her comments about Kim Kardashian during Rose's Twitter fight with Kim's sister Khloé. Now that Rose has taken on slut-shaming as her primary cause, organizing SlutWalks and launching the Amber Rose Foundation, she's dialing the rhetoric back. A little.
"She probably had a fucking blast," Rose now says about Kim's sex tape. "And guess what? At the time she was in love with that guy. So don't think you're better than me, because we've all had trials and tribulations." She continued, "I think it's fucking awesome that she did a sex tape and made millions of dollars for her family. But let's not forget where we came from. Because I didn't."
The profile is great! But unfortunately, Amber took issue with the way it was positioned in the magazine, taking to Instagram with her complaint:
Rose is likely to have the last laugh, though. She says she, like Kanye, is a "motivational speaker," and with more than eight million followers on Instagram, who is about to slow her down?