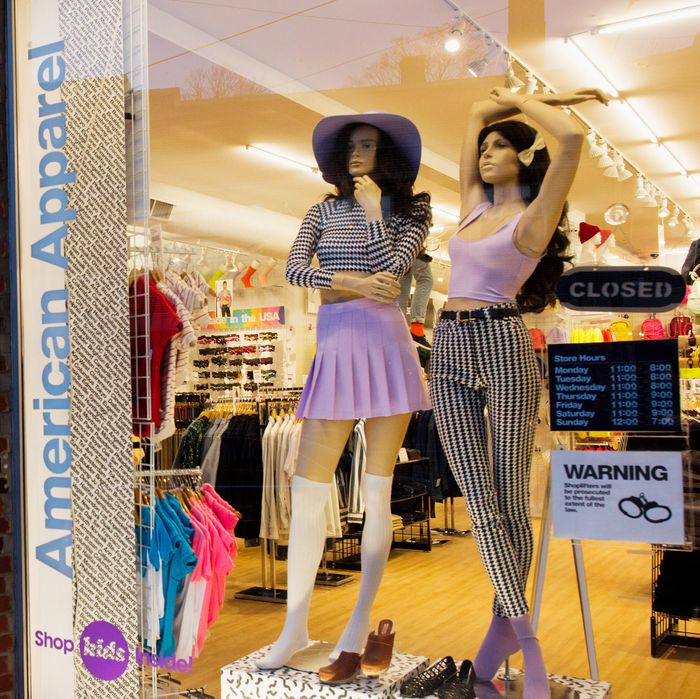 A pedestrian walks an American Apparel store in Cleveland Heights, Ohio, on April 9, 2014.
Photo: Ty Wright/Bloomberg via Getty Images
As it turns out, hiring a CEO who hasn't been accused of a variety of gross behavior wasn't enough to revitalize American Apparel. The New York Times reports that the peddler of crop tops and body suits filed for bankruptcy protection early on Monday morning. The company has massive debts, and the move was predicted several weeks ago after sales fell 17 percent in the second quarter compared to last year. American Apparel lost more than $340 million over the last five years, plus an additional $45 million this year.
The restructuring will allow American Apparel to keep its 130 U.S. stores open and continue manufacturing in the U.S. while the company's creditors exchange their debt for shares of the company. If the court approves the deal, the creditors will take full control of the company, pushing out the current shareholders. That includes founder Dov Charney, who was ousted from his position as chairman and CEO in June 2014. As a bonus, the bankruptcy proceedings will pause the various lawsuits against the company, many of which involve Charney.
Paula Schneider, Charney's replacement, is expected to stay with the company. "This restructuring will enable American Apparel to become a stronger, more vibrant company," the CEO said in a press release. "By improving our financial footing, we will be able to refocus our business efforts on the execution of our turnaround strategy as we look to create new and relevant products, launch new design and merchandising initiatives, invest in new stores, grow our e-commerce business, and create captivating new marketing campaigns that will help drive our business forward."
The filing did not mention any layoffs, so disgruntled American Apparel employees may lay off the Schneider piñata this week.