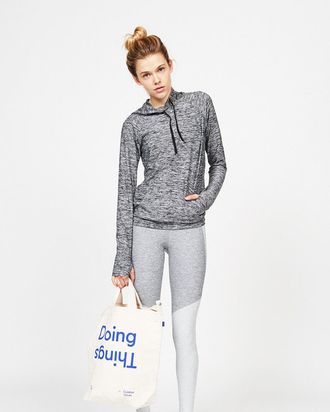 A look from Outdoor Voices.
It appears that Jenna Lyons isn't the only designer to take a fancy to the athleisure brand Outdoor Voices. Vogue UK reports that A.P.C.'s Jean Touitou is investing in the New York–based label, and is planning a collaboration between the two brands that will come out in 2016. While Parisians are still more averse to the spandex-on-the-sidewalk aesthetic — as our beauty editor learned when she signed up for French SoulCycle — there is some overlap between A.P.C. and OV.
"I knew that I loved OV when I saw their fabric selection," Touitou told the site. "They are so material focused that I immediately thought they were just like us. It's a good time to mix real sportswear with real fashion, so the opportunity to invest was too good to miss." Outdoor Voices CEO and founder Tyler Haney echoed his admiration, calling A.P.C. "an iconic brand." For all his questionable decisions, Touitou remains a savvy businessman: He's also invested in Vanessa Seward's namesake line. That said: Hey, Jean, remember when you announced you were tired of collaborations? Guess this constitutes an official 180 on the matter.