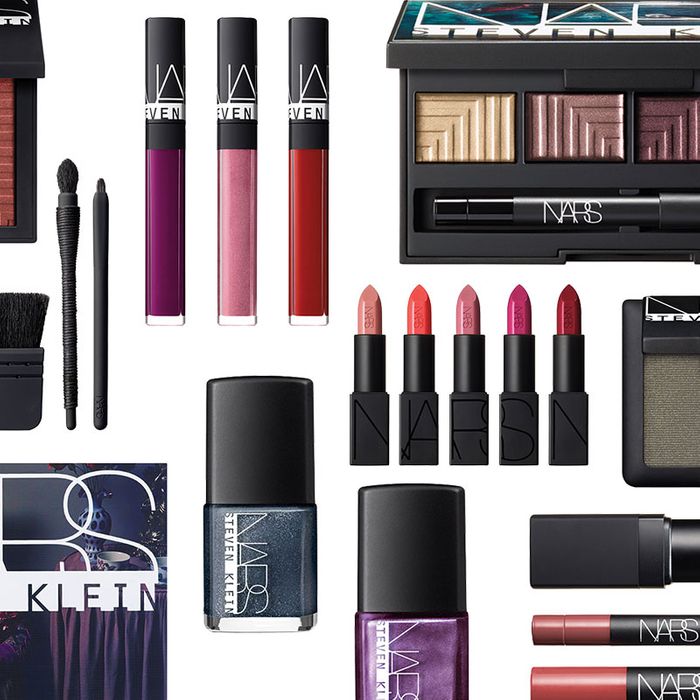 You don't launch a collection with Steven Klein, photographer of a holy Kate Moss and a blazing Kanye West, and expect it to happen quietly. Instead, you throw "the sickest party of the year" at a mansion in Yonkers (it's the new Brooklyn), elicit gun-strapped models to pimp your product, and hope after the fanfare and months of excitement that all the hype rightfully marked a fantastic collaboration.
There are 23 pieces in the Steven Klein for NARS Fantascene collection, most of which hold entirely new shades and formulas exclusive to the line. First, there is a trio of creamy lip colors that NARS has deemed Killer Lipstick. Ranging from a rose-tinted nude to a vampy plum, the rich, moisturizing formulas are much like the brand's trademark Audacious collection, but seemingly supped up on an IV of vitamin E.
There are single-powder eye shadows — in an army green, a glittering snow white, and a demure but shimmering brown — that are relatively safe bets for eye makeup (dust a smudge of the white in the corners of your eye), and a Dead of Summer compact of wet/dry formulas that practically beg you to master the smoky eye. The most interesting of the shades in the compact isn't new at all, but the recycled Subra color: a shade that appears plumlike in the compact, but applies on the eye like a deep variation of brown. (I'm wearing it in the photo above.)
For cheeks, NARS produced a palette known as Despair, where three new shades are mixed with the older highlighter hue Nico. An apricot called Esoteric looks pretty and fairly subdued on cheeks, while Savage casts off a beautiful, wind-whipped coral. Ferocious, an almost-dusty rose pink, is nice, but far from extraordinary. Another cheek palette, this one called Vengeful and carrying more intense pigments, is a shimmering duo of colors — a golden highlight and a brick red blush — that feels ideal for a rosy, holiday-season face.
On the lips front, NARS and Klein produced a compendium of shades that seemingly cater to every taste. There are five Audacious shades in the "Humoresque Coffret." A pink beige, Raquel, tops my list as the most universally appealing (it's in the Instagram above), but the oxblood, Charlotte, won over the Cut's resident expert on all things vamp. For the indecisive, there are five mini lipsticks, too, but the sole nude option, a Champagne beige, is so weak in terms of pigment that the color payoff is equal to tinted moisturizer. Three new very sticky and very shiny glosses are part of the collection as well, including a bright-purple pigment that even Rihanna might line up to try.
Since this is a Steven Klein collection, there is a fair balance of fun and weird, like a golden missile filled with three of NARS's velvet matte lip pencils and sleek, luggagelike makeup cases that, truthfully, seem a bit cheap (one broke within minutes after it came into my possession). But the photos that adorn the collection's packaging are literally works of art, which makes sense, because the products inside are perfect for embellishing the canvas that is your face.
Fantascene Holiday Collection, $19 to $200 at NARS.