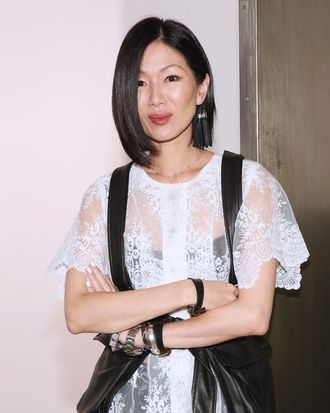 Marissa Webb.
Photo: Mireya Acierto/Getty Images
The post-fashion-month hits just keep on coming. Banana Republic just announced that Marissa Webb will no longer be the creative director of the retailer, which appointed her a year and a half ago. Women's Wear Daily is reporting that Webb has not made a complete split with the brand, however. Webb will continue to be a "creative adviser," and Gap Inc., which owns Banana Republic, retains its minority stake in Webb's namesake label — which she's been designing since 2012. Webb previously worked as the head designer at J.Crew.
If you think that Banana Republic already has a shiny new successor waiting in the wings, it doesn't sound like that's the case. According to WWD's sources, the role will remain empty, in favor of "a more collaborative approach, closer to how other Gap Inc. divisions operate." Think of Gap's recent dismissal of creative director Rebekka Bay, whom it replaced with a design team.
Global brand president Andi Owen said in a statement, "With a very strong product team in place at Banana Republic, this is the right time to evolve her role. We'll continue to support Marissa and her success in the future." Said Webb, "I'm really looking forward to stepping into my new role as creative adviser at Banana Republic. This opens the door for even more possibilities for my own collection and Banana Republic. So many great things are happening at Banana Republic and at my Marissa Webb label and I am proud to be part of the growth and evolution of both brands."