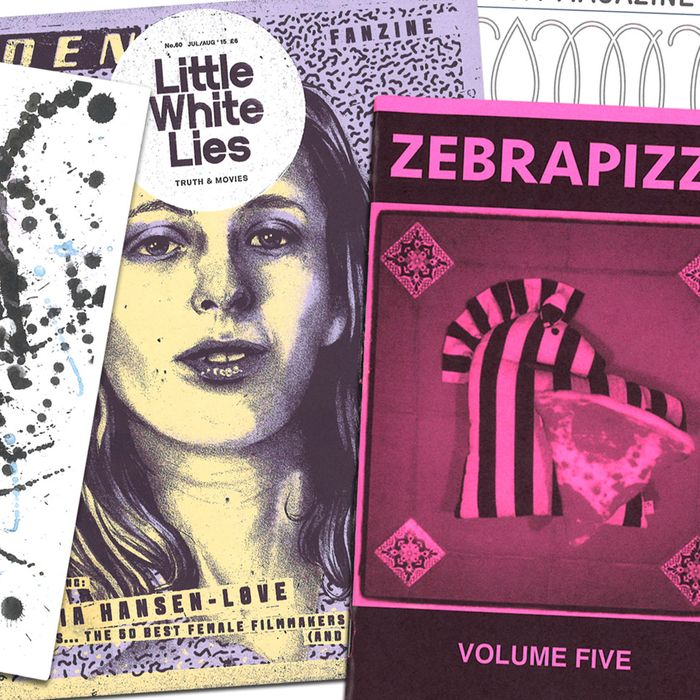 Zine and Heard is a new column on the Cut where we look at the small and continuously flourishing world of zines, art books, small presses, and their companions in the underground and independent music world. Once a month, we'll share bits and pieces from self-released paper objects and labors of love that embrace everything from humor to poetry to art to gender and all that comes in between. Soundtrack included.
READ: Becoming a Witch
by Sophie Morro
Canadian artist Sophie Morro's limited print-run book of charcoal drawings is a tribute to the empowering rush of being a woman comfortable in her own skin. With 40-plus pages of inspiring illustrations about the beauty of being female, it's perfect reading for your anti (or perhaps pro!) Taylor Swift–style squad.
$20 CAD at sophiemorro.com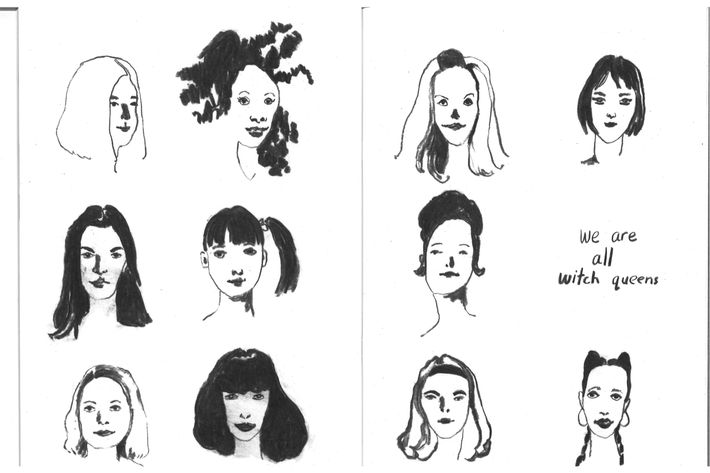 READ: Welcome to Your New Life With You Being Happy
by Rachel Bell
Chicago writer Rachel Bell's writing is both stark and hopeful; incredibly dismal and representative; current and universally appealing. The best of her poems are like stories your friends tell you after a night out, just a little bit grimmer.
$7 at Pioneers Press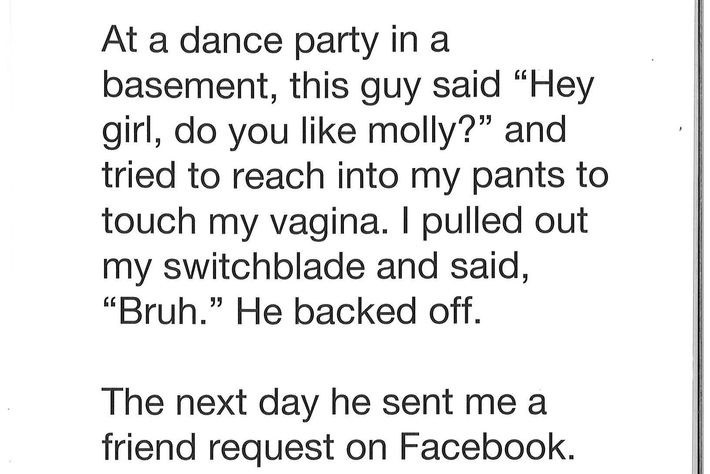 LISTEN: Santigold, "Can't Get Enough of Myself"
Praise heavens, Santigold is back, and with a song dipped in the same sentiments as Hailee Steinfeld's "Love Myself" but as written for grown-ass women. I've already made space for her forthcoming album 99c on the playlist in my head.
READ: La La Land
created by Carmen Johns
Los Angeles is a city that gets a bad rap, especially from coldhearted (and dare I say it) jealous New Yorkers. In a zine so beautifully designed I could puke, editor Carmen Johns aims to gently correct the narrative. The first edition of La La Land features over 30 contributors on what makes the city great and how to navigate it if you're still somehow resisting its charms. A big bonus: Johns's splendid handwriting and doodles.
$8 at La La Land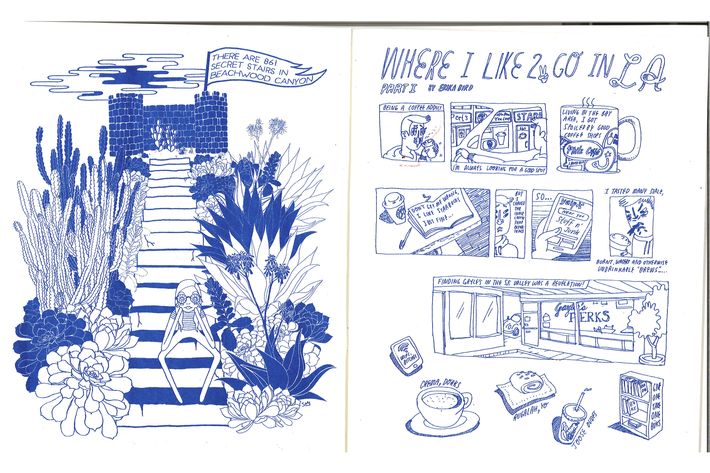 READ: Zebra Pizza
by Pizza Jono/¡Three Amigos Press!
Zebra Pizza is a zine best digested by lamplight on a hardwood floor with an open box of your favorite pie within reach. Full of poignantly funny collages and shout-outs to Aubrey Graham, you'd be hard-pressed to find a more memorable piece of artwork than one plastered with angular text that reads, "I waz runnin' through the six with my Digoiornioz." Come for the pizza, stay for the screed against Trump.
READ: The Cry Zine
created by Beth Davis
Crying is one of the most underrated leisure activities. Feeling bad? Have a cry. Feeling great? Have a cry. There are few things as soothing as letting your body leak tears. Beth Davis was aware of that when making a call for submissions for The Cry Zine, which features color illustrations, poetry, and other odes to tears. "A Random Sample Selection of Personal Gmail History Search Results on Crying" by Mia Christopher is about a highly recommended thing to do in one's downtime.
$6 at Flowerfeel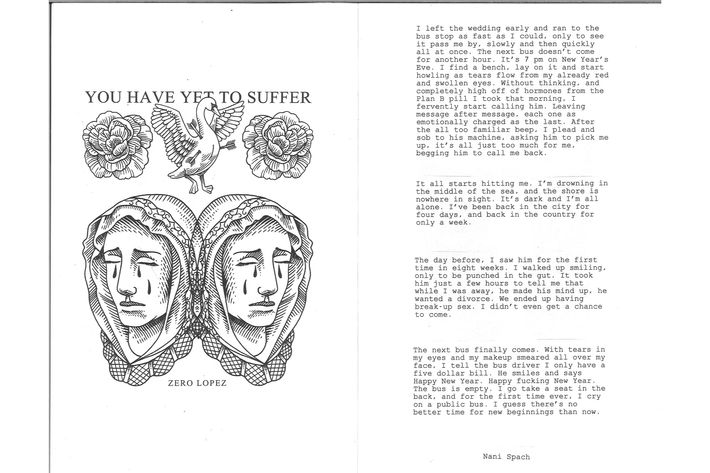 LISTEN: Freind, "The Pleasure Is All Mine"
This low-key track from Freind — not Friend — is spacey, deadpan, and punctuated by lyrics that themselves sound like they're from the pages of any of the zines listed here. An EP is allegedly coming soon, but for now the pleasure is all ours.
Though it's more "mainstream" than some of our other picks, Tom Tom should not be discounted for being both beautifully printed and well-sourced. It is the primary resource for women interested in playing drums, women who do play drums, and women who just love the sound of the beat. In this, the 23rd issue, there is an interview with Parió Paula, a group of Peruvian women percussionists who use drums as an expression during protests and beyond. Not only is the interview incredibly inspiring, it's printed in both Spanish and English.
Little White Lies is a compendium of interviews, reviews, and stories about film. The July/August issue was a tribute to the 50 best female filmmakers as written by their biggest fans and accompanied by vivid illustrations from an array of exciting artists. And: If a back issue isn't convincing enough, the current volume is a love letter to the Todd Haynes film Carol.
£6 at Little White Lies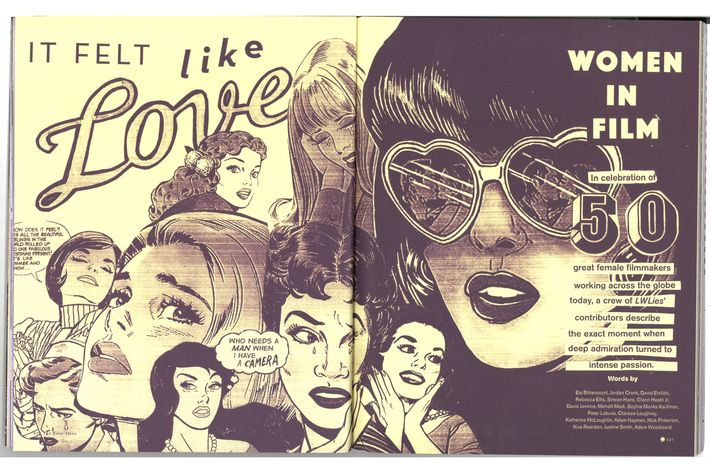 LISTEN: Lizzo, "Humanize"
I hate to be a broken record, but why isn't Lizzo so goddamn famous yet? This dreamy track sees the rapper doing a little more singing and breathing than rapping, and it further proves that she is nothing if not a multitalent.