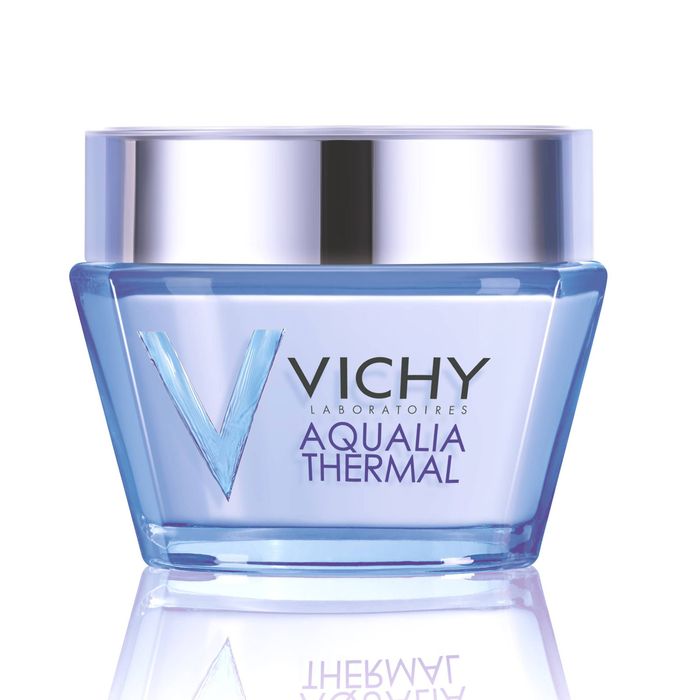 Vichy's Aquila Thermal Rich Cream.
Anyone doing any airport travel soon (the real kind, not Chanel): Here is your perfect skin-care cocktail for dewy, supple, get-off-the-plane-and-go-straight-to-work skin. Last Thursday night, I mixed a few drops of face oil into Vichy's Aqualia Thermal Rich Cream and brought it with me on the red-eye to Paris. In France, the brand is known as being the savior of dry, dehydrated skin.
Originally, I was inspired by a beauty editor who told me that she once sat next to Naomi Campbell on a plane and witnessed her applying rich moisturizers and serums continuously during the eight-hour flight. I planned to do the same, but two hours after take-off, my skin felt untouched by the dry cabin air. Four hours later, I groggily considered trying again, but my face still felt glowing, grease-free, and sheathed in a fine cocoon of moisturizer.
By the time I de-embarked the plane on two hours of sleep, the rest of me looked rough, but my skin still looked amazing thanks to the $33 cream. Oh, and it's oil-free and noncomedogenic, so you can be très liberal with the application.
Vichy's Aqualia Thermal Rich Cream, $33 at Amazon.