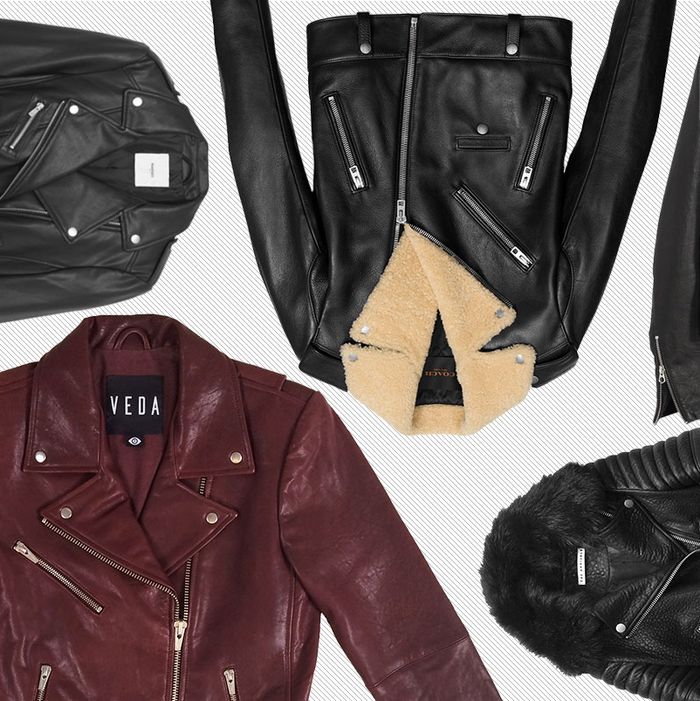 There are two good reasons to buy leather motorcycle jackets: They never go out of style, and they get better with age. But there's also one good reason to hold off: the price. It can be hard to find an affordable moto jacket that's made from quality materials, but we've done the work for you.

A sleek faux-leather jacket with removable fur from Forever 21 not only costs under $50, but is also thin enough to layer over all your chunky knits and turtlenecks. The Arrivals' soft and textured jacket is a street-style favorite, or if you're looking for a showstopper, you can't do better than a fire-engine red jacket from Saint Laurent. Scroll down to see our picks for the best motorcycle jackets, no matter your budget.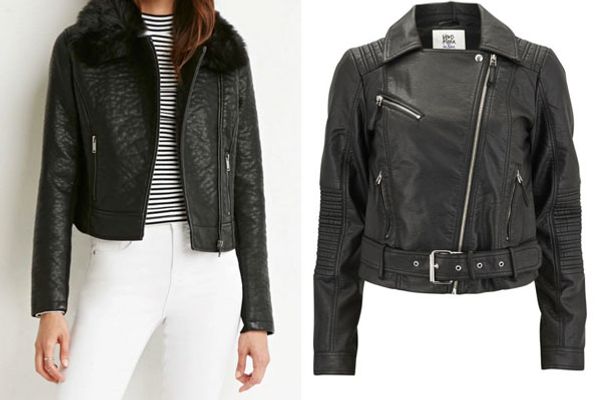 Under $50
Obviously, if you're buying a leather jacket under $50 it's going to be faux, but that doesn't mean you should have to skimp on quality. Forever 21's lightweight bomber is perfect for layering and has a removable fur collar. For a tougher look, try Vero Moda's asymmetric jacket, complete with quilted panels and zipper details. 
Forever 21 Jacket, $43 at Forever 21 and Vero Moda Jacket, $44 at The Hut.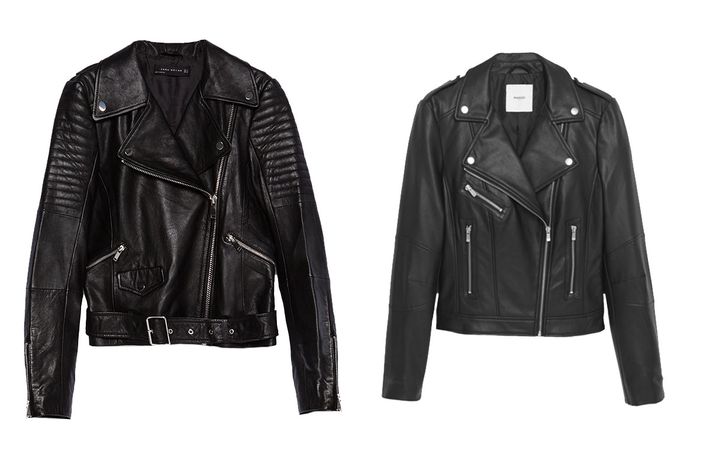 Under $200
At the $200 range, you can get a better-quality jacket at high-street stores like Mango and Zara. Zara has a real leather jacket that costs $189 and feels like the key ingredient in an "It"-girl ensemble, while Mango's streamlined version is simple and chic — perfect for letting the rest of your outfit shine.
Zara Jacket, $189 at Zara and Mango Jacket, $99 at Mango.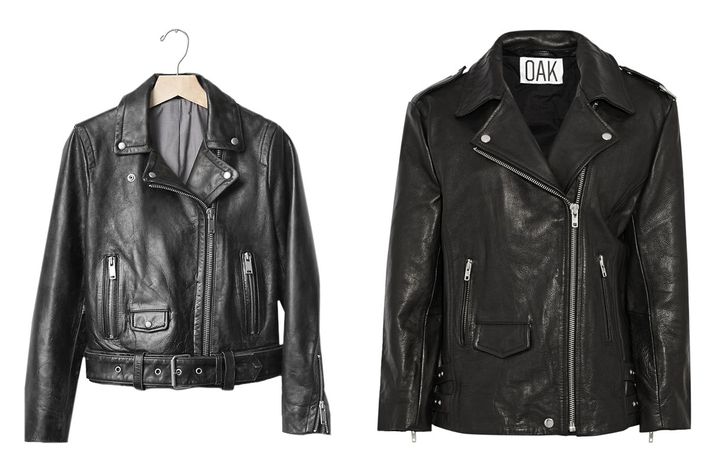 Under $400
At this price range, you can get a real leather jacket that will probably last you a bit longer than cheaper versions. Gap's leather jacket, ringing in at $329, took us by surprise with its modern appeal. And Oak's slightly looser version is made from a heavyweight leather, with lots of pockets, for only $216.
Gap Jacket, $329 at Gap and Oak Jacket, $216 at The Outnet.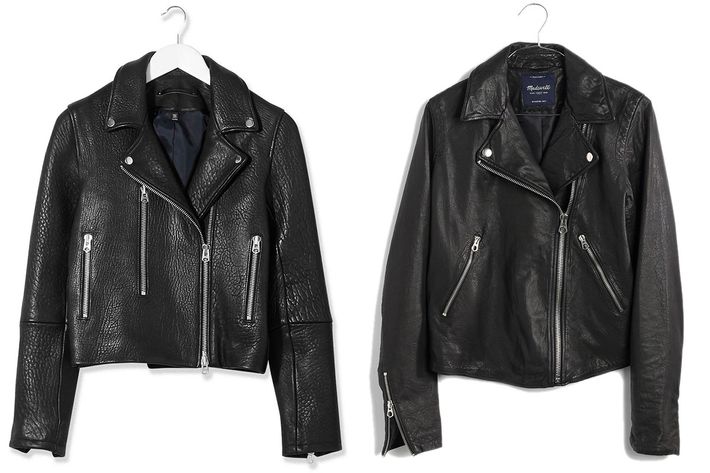 Under $500
If you like a bit more polish, go for Topshop's jacket, which is made from a butter-soft premium leather. Or, if you prefer a more lived-in look, Madewell's jacket, with its chunky silver hardware and washed leather, has a cool vintage aesthetic.
Topshop Jacket, $450 at Topshop and Madwell Jacket, $498 at Madewell.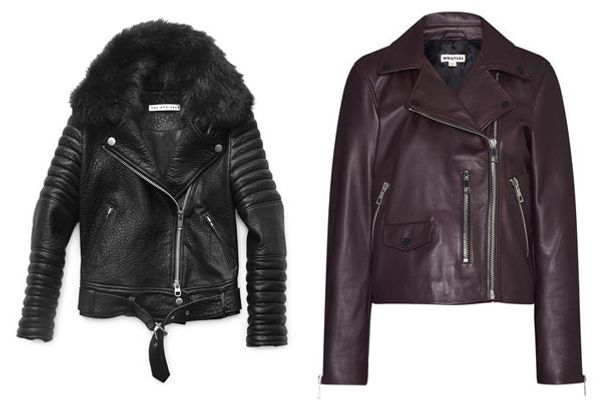 Under $700
The Arrivals is by far the trendiest pick of the bunch with quilted sleeves. Or, if you want a little color, this updated biker from Whistles has a boxier fit and slim arms for a flattering silhouette in a warm-burgundy tone. 
The Arrivals Jacket, $685 at The Arrivals and Whistles Jacket, $660 at The Whistles.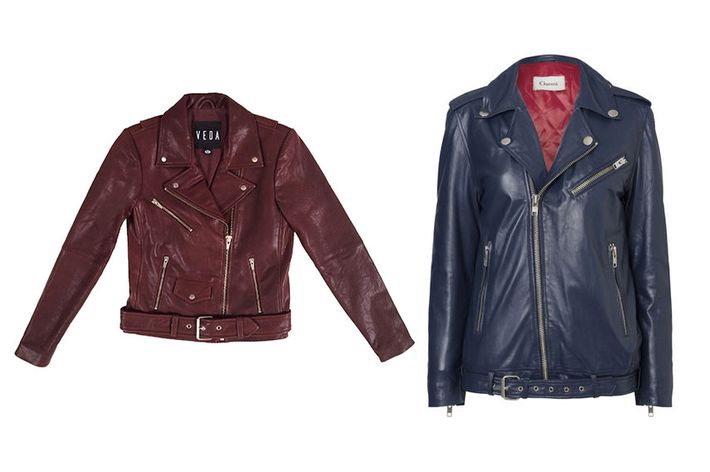 Under $1,000
Veda really emphasizes the fit and lasting quality of its jackets, so this classic jacket with a belt and zip closures is worth the money. For a more relaxed fit, we recommend trying this one from Danish label Ganni. It comes in a supple navy leather, and the off-center zip will drape perfectly over your sweaters. 
Veda Jacket, $946 at Veda and Ganni Jacket, $748 at Shopbop.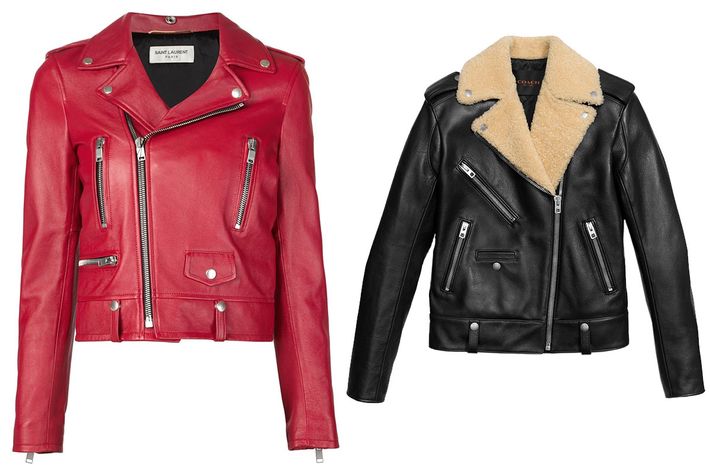 Over $1,000
It's Saint Laurent. So yes, this jacket will cost you about half a year's rent, but that's why they call it an "investment piece." It's by far the sleekest, softest, and warmest leather jacket you can buy, and the bright red will complement all of your black clothes. Or, if you're loving the vintage look as much as everyone else, Coach's oversize motorcycle jacket is the best one out there. It's made from a heavy-bodied leather and is fully lined with shearling, plus all the hardware was handcrafted in Italy. 
Saint Laurent Jacket, $4,990 at Kirna Zabete and Coach Jacket, $1,795 at Coach.