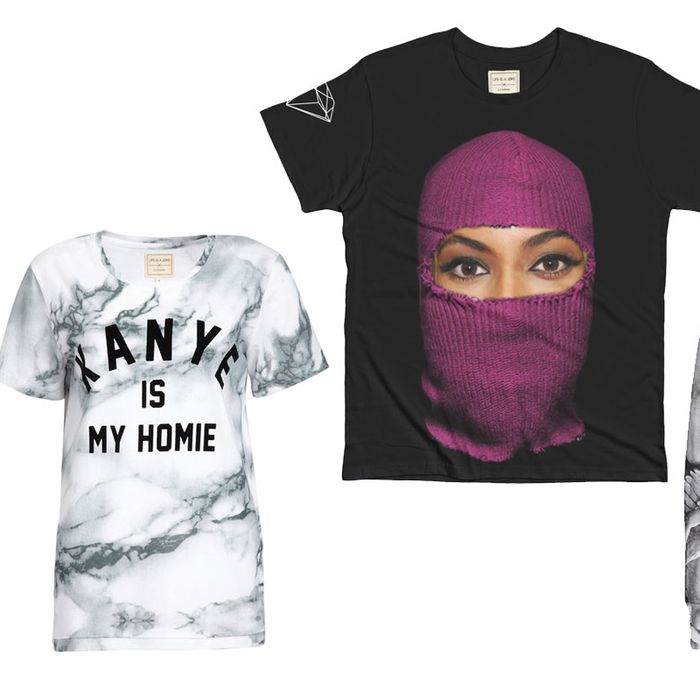 Shirts from ElevenParis.
Photo: Eleven Paris
"Kanye Is My Homie." "Pharrell Is My Brotha." These aren't official merch slogans, but rather messages on T-shirts from the French label ElevenParis, which also specializes in shirts (and other products) with different artists' lyrics and images. Unsurprisingly, said artists took notice: The power quintet of Beyoncé, Jay Z, Kanye West, Rihanna, and Pharrell Williams is now suing the label, per Reuters. Their complaint, which you can read in full here, calls ElevenParis "habitual, willful intellectual property infringers that, without authorization, usurp the trademarks, copyrights, and other rights of A-list celebrities." They're also accusing the brand of unfair competition, given that all five celebrities have clothing lines of their own. In a statement yesterday, the brand responded, "ElevenParis is determined to find a fair and balanced agreement with them and their advisers."
However, there's a weird, Beyoncé-related twist to this whole story. If you read all the way down to item 89 in the lawsuit, you'll find that ElevenParis "entered into a confidential agreement with Plaintiffs Beyoncé and BGK Trademark Holdings, LLC" back in January and that ElevenParis in some way "breached the terms and conditions of the Agreement." The details are left unclear, but it sounds like Knowles, at one point, had a secret deal with the company that went sour. And Solange Knowles coincidentally appeared in one of the brand's ads (which is currently being used to advertise ElevenParis's sale section on its website). Given the magnitude of the plaintiffs involved, it seems likely that we'll be hearing a lot more about this case; meanwhile, the brand is still selling "Karl Is My Father" and "Kate Is My Ex" T-shirts to the celebrity-hungry masses.