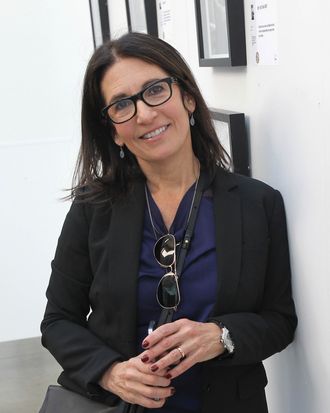 Bobbi Brown
Photo: Paul Morigi/Getty Images
Bobbi Brown is very, very busy. As the author of eight books, the founder of her mega-popular eponymous line, and the editor-in-chief of Yahoo Beauty, not a minute goes unscheduled in her day. Recently, she carved out a few minutes from her jam-packed calendar to speak with the Cut, where she praised the virtues of an alkaline diet, tackled how to deal with stress, and explained the two most important things women need to take into account when it comes to beauty.
How I start my day: I start my day at 6:15 and I wake up either by alarm, dog, or husband. I drink an alkaline green juice powder and then a double espresso with coconut milk. I then open up my iPad and check the world: from Instagram to Yahoo Beauty to anything "Bobbi." Then I hopefully do an exercise and then shower and leave the house for work.
How I like to sweat: I usually do something every day. Sometimes I strap on my Apple Watch and grab my dog, and then a pair of headphones. I should be listening to music but I usually call someone — a friend, a sister, and I basically walk with them. I feel like it's the only time I have time for conversation. So a half-hour, 45-minute walk is my social life sometimes. Twice a week I do yoga, and then twice a week I also do a 30-minute, intense super-flow. It has worked really well for me time-wise and challenging-wise.
How I eat in the morning: I eat after I exercise. I have been doing shakes in the morning — it always has to be chocolate. I put everything in it, from chia seeds to cacao. I sweeten it with a bunch of beets, and I use more coconut or almond milk than yogurt these days. I've experimented with different eating plans: low-fat, high-fat, paleo, but what really works for me is trying to keep an alkaline diet, which is mostly vegetables and healthy fats, fish, and [fewer] acidic foods that are harder on your body. I'm experimenting with that and it seems to be working.
What wellness means to me: Wellness means that you feel good in your body. You're somehow balanced, you don't have a lot of pain in your body, and you have energy and are able to think clearly.
My wellness shortcut is: You can't really have control over how much stress there is in your life, but what you can control is how you handle it. I am learning that and I've learned that through yoga. Breathing makes all the difference. I'm someone who usually doesn't breathe, whether I'm in a meeting, working, exercising, talking to my mother — I'm not breathing. I have learned that by breathing, it allows calmness. You can still get the same amount of work done, but it's calmer. This is something that has unfortunately come with age, but now that I'm in my fifties, it's like, aha!
How wellness has changed for me: Early on, wellness to me was skinniness. Wellness was something that I didn't deal with when my kids were young, and when I started my company it was at the bottom of the totem pole. But as you get older, it's actually more important. How you feel really affects the way you live.
My wellness advice is: Don't dive into something. It's about making changes slowly that are more natural and suited to your lifestyle. It's got to be organically a part of how you act, instead of doing everything, because that doesn't work.
The most important thing a woman should take into consideration when it comes to beauty: Two things, where the first is your health. It really shows up on your face. The second is to find the world's greatest concealer, because even if you are tired, you won't look it.
This interview has been edited and condensed.