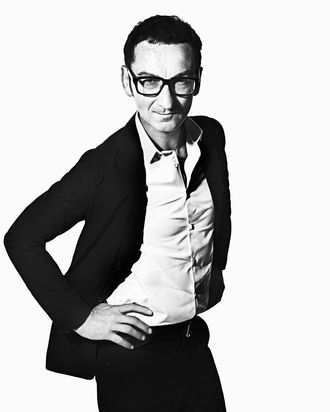 Bruno Frisoni
Photo: Rankin
Late on a Wednesday afternoon, the Carlyle Hotel's lower gallery is filled with intimidatingly chic people of a certain age sipping tea and eating cake. It's not exactly the hipper-than-thou downtown scene that would usually host a Parisian designer in town for a quick stopover. But for Bruno Frisoni, it's the place he feels most at home in New York. The Roger Vivier creative director is here to accept an FGI award (from his friend Katie Holmes, no less), but as he settles down with a pot of tea whose print matches the salon's ornate wallpaper, he admits he's too jittery to be excited: "I will probably be nervous the moment we leave the place and when we arrive." Frisoni, who's been at Vivier now for 13 years, spoke to the Cut about his thoughts on sneakers, real fashion versus "T-shirt fashion," and why waiting can be the biggest luxury.
So, Katie is going to be introducing you. Do you consider her to be one of your muses? 
Ever since I was appointed creative director, she was always by my side, since the beginning. Her daughter Suri has been there also from an early age, and so they're family people for me. It's quite reassuring to have her with me tonight because you need somebody, and you share things for that kind of special moment. You never get used to that moment.
Another woman who is always by your side is Inès de la Fressange, Vivier's brand ambassador. What's your relationship like? 
Sometimes we act maybe more as brother and sister, like the brother is jealous of the sister, maybe.
A little bit of sibling rivalry?
I don't think she's jealous of me. [Laughs.]
What can we expect from your latest collection?
We wanted to bring new looks to the iconic buckles. It's like, if you go to Chanel, you want the "CC" and the quilted [elements]. If you come to Roger Vivier, you want the buckle first.
You're even including the buckle on sneakers now. Do you think a dressed-up sneaker is okay for any occasion? 
A decade ago, besides young people, the only people wearing sneakers were American women. They would carry their heels in their totes.
Like Working Girl. 
Yes, arriving at the office and putting on the heels.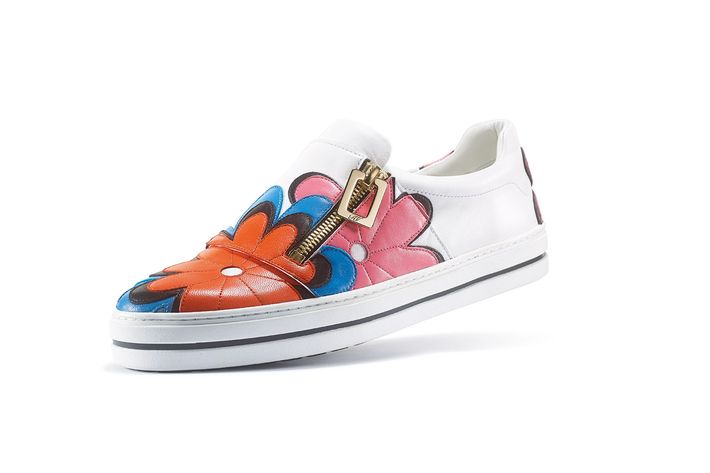 Everyone is talking about how to change the fashion system. Have you been revisiting the way you show your collections?
I think today, everything can be revisited. The way collections are shown, whatever it is, fashion shows or still presentation, as we do, I think something new can be done. I was amazed by and found fantastic what Tom Ford has done. Not doing a show, but just a video. It was very strong. It's kind of breaking news to do so. This was a production, but with not so much money, and with a very good result.
Having Lady Gaga in the video didn't hurt, either. 
It's really connected with what people want today. You have to be connected to social networks, you have to be connected with bloggers. It has to be immediate.
People expect instant gratification.
I think it's a nice thing to wait for something. For example, I just ordered, two days ago, something that was not in my size — the fabric was the one I wanted but it wasn't the right size. And they said, "We can have it made for you. You just have to wait four weeks." I know that in four weeks it will arrive and it will be like a little present. I will have forgotten in four weeks that I was about to receive such things.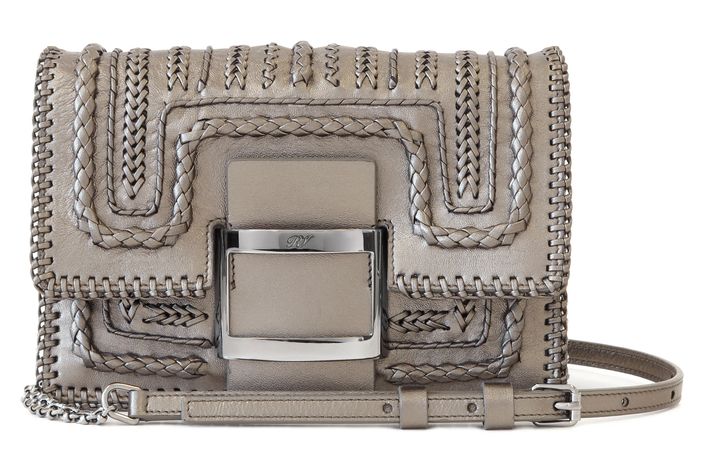 High fashion seems to be responding to the knockoffs by becoming more craft-based and more ornate. Like the most recent Marc Jacobs collection, or Alessandro Michele's work for Gucci, would be hard to copy quickly.
The gap between these two things, to me, is T-shirt fashion and what is real, extremely beautiful stuff. There will be a gap more and more. When I was a student in fashion, more than 30 years ago, they were saying couture is dead. And it's still there, but it's not the same at all. People still want to have the possibility to order something special in a different material with special workmanship or in their size.
Going back to moviemaking, I'm curious if you would ever do the accessories for a film, in the spirit of Belle de Jour, where Catherine Deneuve wore a YSL wardrobe and Vivier flats.
Why not? It's always possible. We are not there yet.
This interview has been edited and condensed for clarity.