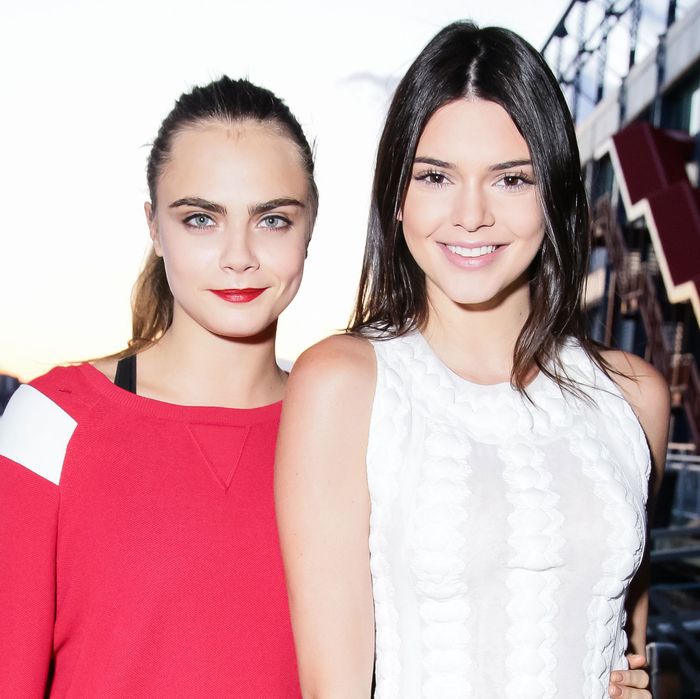 Cara Delevingne and Kendall Jenner.
Photo: Matteo Prandoni/BFAnyc.com
In case you doubted their Instagirl status, Cara Delevingne and Kendall Jenner both got the most Paris Fashion Week–related likes on Instagram this season. According to the numbers the app has been releasing to the Cut, each got over a million apiece. Kendall earned hers for a photo-booth snapshot and a faceless showcase of her midriff, while Cara posted herself wearing bright blue outside of the Chanel show.
Balmain, Dior, Chanel, and Valentino were the top Instagrammed shows. Like Stella McCartney, Dior and Balmain also captured the atmosphere with their own Instashoots — in which, of course, Kendall made a reappearance. Read on for the full list of top designers below.
Top-Liked Photos:
Cara Delevingne's photo, Kendall Jenner's photo, and Kendall Jenner's midriff, all with 1.1 million likes.
Most Instagrammed Shows:
1. Balmain
2. Christian Dior
3. Chanel
4. Valentino
5. Elie Saab
6. Chloé
7. Stella McCartney
8. Alexander McQueen
9. Kenzo
10. Balenciaga