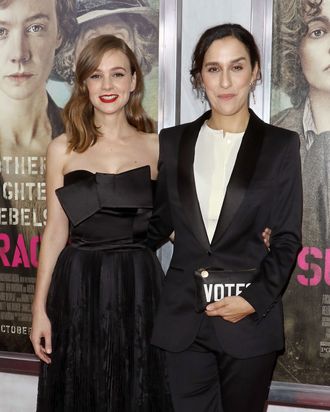 Carey Mulligan and Sarah Gavron.
Photo: Jim Spellman/WireImage
Meryl Streep's character, Emmeline Pankhurst, looms large over the film Suffragette, but she only appears for a few minutes, coming out of hiding to deliver a rousing speech that incites the movement to action and even violence.
It's a dramatic historical moment, so it's no wonder that it features prominently in the film's promotions. What's less clear is the filmmakers' choice to except the line "I'd rather be a rebel than a slave" on T-shirts worn by stars like Streep and Carey Mulligan. Many have been quick to call the use of the word slave tone-deaf, especially given the critiques that the film whitewashed the history of U.K. suffrage.
The Cut caught up with the film's director, Sarah Gavron, and star, Carey Mulligan, at Monday night's New York premiere and asked about their reactions to the backlash. Both were sympathetic to the criticism, but firm in the film's message.
"It was an original quote by Emmeline Pankhurst that was taken out of context and put on a T-shirt," said Mulligan, who plays Maud Watts, a working-class woman whose desperation drives her to militancy. "You know, you make a film like this to spark conversations. When you make a film that's actually about a real issue, you're going to expect a lot of discourse around that, and I think we really welcome that — that's not something to be curbed. But I also wouldn't want the negative narrative to sort of cloud the fact that this film is empowering women and empowering people," she added. 
Gavron, who's already responded to the whitewashing backlash in an op-ed, seemed to agree: "Well, I understand the sensitivities. I mean we're aware of and acknowledged the sensitivities around it, particularly in the U.S. But what I think is that this is a film, the intention of this film, was that it would speak to women all over the world, from all sorts of backgrounds who are fighting inequality, because it's a story that's universal. We told a very specific story, set in a very specific part of London 100 years ago, but I hope that out of that comes a universal story."
Apparently in a rush, she didn't address whether she would have done anything differently. Before Mulligan headed into the screening, she added one last comment: "I think the conversation's great."