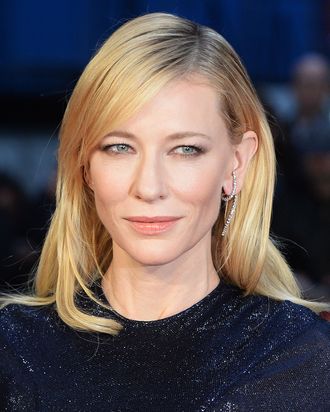 Cate Blanchett
Photo: Splash News/Corbis
She's played a a rock legend, a jilted ex-girlfriend, and an elf, and that was just in 2007, so it's hard to believe that these days, Cate Blanchett is working more than ever. Ahead of the screening for her most recent film, Carol, Blanchett joined SK-II to debut the Japanese brand's newest pietra-infused product, a "midday" essence, and a pop-up shop. It was there that the Cut caught up with Blanchett and discussed her once-a-week workout routine, wellness as a marketing ploy, and shopping at macrobiotic stores.
How I start my day: I usually start anywhere between 6 and 6:30 a.m. I would love to say it's because I go and have a run, but it's because the baby wakes up and the kids wake up and I need to get them to school. After that, the plan is that I go exercise, but then one thing happens and then another thing happens, so I usually don't exercise. I might get to exercise one time a week, but it usually involves a snatched cup of coffee, making children's lunches, changing out of my pajamas, feeding the dog, having a glass of hot water with lemon, and running out the door.
How I like to sweat: I really like Pilates. I feel like it's made for actors' bodies. For me, I need to do it one-on-one. I find that when you go into a big class, you actually need a guiding hand. At home we have an elliptical trainer, which is good because that's often the only exercise I get. But my job is very active — I end up stretching each day before I go on, so I feel very taken care of in that way.
Wellness means to me: I don't know. Wellness is an invented word for being healthy. Wellness isn't a term I use; I feel like it's a marketing term.
My biggest wellness struggle: Recently, because of a gut issue with my son, we had to take him completely off sugar, wheat, dairy, and all processed foods, which is really hard for an 11-year-old. I was doing that with him along with my husband, and you realize how difficult it is to buy foods that don't have hidden ingredients, like sugar. You need reading glasses when you shop, or if you can afford it, shop at a macrobiotic store. I can understand why people get hard-core about it because it's a slippery slope.
How I eat when I'm alone: I have a cup of coffee in the morning and it's always a bit rushed, but I really like to sit down and read the paper. I really enjoy that.
My general health advice is: It's all about divesting yourself of all these things that we think we need but we don't. We're in the process of moving house, and it's a real gift, in a way, because you shed and you give things to other people. We're like goldfish: We grow to the size of the bowl we're in. I would love to find the place where I find the time to exercise because it's important to have those little rituals and routines throughout the day since days pass so quickly. Someone will say, "What did you do yesterday?" and you really have to think because we don't in-build those moments to sit down. My next step is meditation. We've got four sessions booked. I have this very dear friend, one of the best actors in Australia, and he started to meditate a few years ago. I told him I was worried about that because don't you need to have that slight tension in your body to be onstage? Don't you need to have a hunger? And he said it actually allows it to be there more. The fact that he said that, I thought, okay, I'll give it a go.
 This interview has been edited and condensed.