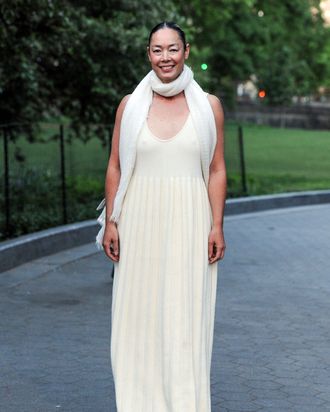 Cecilia Dean
Photo: Billy Farrell.com/BFA
In the palm-lined Winter Garden of Brookfield Place, Cecilia Dean is watching a group of men with power tools go to work. If it seems a bit out of character for the Visionaire co-founder, who can usually be seen sitting front row at Rodarte or attending splashy art benefits, there's a simple explanation. Dean is preparing for the latest edition of "MOVE!," an "interactive experience" she's co-curated with the writer David Colman. "MOVE!" has previously bowed at MoMA PS1 and São Paolo's SESC cultural center. This latest edition, opening today and running through the weekend, won't be confined to a museum space but will feature events taking place all over the high-end shopping center.
So, for example, just up the escalator from J.Crew, Visionaire's James Kaliardos, who does makeup for Rodarte and Louis Vuitton, will be doing a piece called Crossover, in which he makes volunteers up to look like the opposite gender. (Dean shows me a preview on her phone of downtown DJ Chelsea Leyland undergoing the transformation — she's completely unrecognizable.) The building's famous staircase will be the site of an interactive piece by the artist Kate Gilmore, where participants can swan around on the red carpet. They'll be surrounded by a retinue of male models, with Calvin Klein men's designer Italo Zucchelli providing the suits, and a bank of "paparazzi." 
All of the pieces are immersive and social-media-friendly, most merge fashion and art in some way, and many involve some kind of take-home component. ("We like keepsakes," says Dean.) If you try on a Diane von Furstenberg wrap dress in the store on the first floor, you can pose for a shoot by artist Ryan McNamara, who will combine the poses into an abstract-looking print that will then be emblazoned onto yet another wrap dress (made in collaboration with Print All Over Me). Wearing endless variations of one's wrap-dress-clad self on a wrap dress sounds either potentially narcissistic or Escher-esque, but Dean, who has already tried this out, is excited about the possibilities. "I thought that I could wear my DVF wrap dress [with the print] of me wearing a DVF wrap dress and then do the installation with Ryan and have a DVF wrap dress of me wearing that DVF wrap dress, and then give this to Liz Markus" — an artist who'll be there knitting scarves inspired by moments in people's lives — "and describe this moment that she then captures on a scarf."

Other attractions will include Proenza Schouler and Rob Pruitt collaborating on an installation where passersby can superimpose themselves, via a green screen, onto the model lineup of Proenza's fall 2015 runway show, and a carnival-style setup by Cynthia Rowley and Olaf Breuning teaming up for a splatter-paint-based project. For Dean, the most exciting part is the opportunity to reach a new audience. "Obviously I would love to do it in an art institution again one day, but there's something really powerful about being in a public space, where people aren't expecting you," she says as office workers on their coffee breaks and window-shopping tourists pass us by. "Because I think if you asked most people, 'Hey, you want to participate in some performance art?' no one's going to say yes. But if you happen to be here and you walk down the red carpet, you've just done it."
With fashion moving in an ever slightly more populist direction, this is perhaps part of an ongoing movement to involve the general public in the still-snooty precincts of high art and high fashion. And for Dean, it's a chance to try something new. "What I love about Visionaire is that it's very potent, it's expensive, and it's limited. Those are also the things that frustrate me," she says. "We don't only do limited editions because we want to make a certain amount. It's because the labor is cost-prohibitive; because of that, they're expensive. And because of that, they're exclusive because they're only sold at particular bookshops and they're not going to be at your neighborhood magazine store." With "MOVE!" she and Colman are, she says, looking at "a much larger reach." Now it's just up to the masses to turn out.