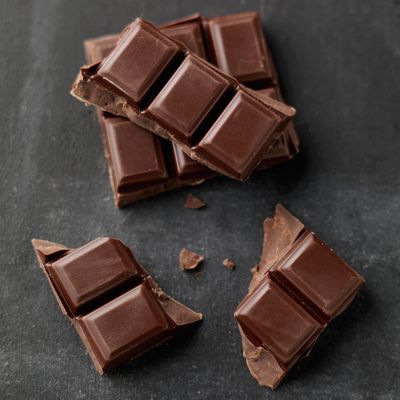 Photo: Pierre Louis/Corbis
There's an unwritten rule among celebrities in Hollywood, and it is this: You must not enjoy regular chocolate.
No matter how badly you miss a good old-fashioned Reese's cup, you must pretend you no longer crave the worse-for-you confection of milk chocolate, and instead are wholly satisfied by dark chocolate. "I just have to have a single square of organic 90 percent cacao chocolate," they say. "It keeps me sane."
Dark chocolate is good in the way that oatmeal-raisin cookies are good: Sure, they're good because they're cookies, but honestly who wants pieces of dried fruit in there when you can have chocolate chips?
Here, celebrities pretending dark chocolate is at all satisfying.
"At the end of lunch, I always have a small piece of dark chocolate — it tells my body that I'm done with my meal."
"If you want to have a little indulgence every now and then, then that's okay. Sometimes I'll feel like some dark chocolate."
"I do need to have some dark chocolate every night before I go to sleep."
"I can't start the day without a hot chocolate, or finish it without a few squares of dark chocolate. It's good for my mood!"
"I really love dark chocolate."
"I have dark chocolate every day. Indulgence and pleasure [are] an important part of life."
"I love dark chocolate — I could eat it 'til I puke."
"She ate [dark chocolate] every day. A bite or sometimes more. She had a special drawer in the house where she would put her chocolate and it was forbidden to touch. She would get upset if someone finished it before her. Chocolate was her favorite pick-me-up."
"I'm also a Kind bar girl — the Dark Chocolate Nuts and Sea Salt, in particular."
"[Living Libations] makes some amazing dark chocolate."
"My usual day is a banana, Greek yogurt, and cappuccino for breakfast, chopped salad for lunch, juice as a snack, and some sort of chicken/steak and vegetable dish with a piece of white or dark chocolate for dessert."
"If I feel like something sweet I have a few squares of Green & Blacks mint dark chocolate."