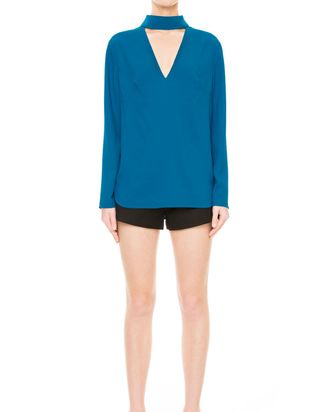 Every Monday at the Cut, we're highlighting one great purchase that won't take up your whole paycheck. If you're looking for a splurge instead, check back every Friday for one great purchase that's worth eating ramen noodles for the rest of eternity.
The skinny-scarf trend has been worn a million ways on and off the runway, from Chloé to Zara. For days when you want to look like Alexa Chung but can't be bothered to actually locate your scarf, try this teal blouse complete with its own neckline collar. From Australian label C/MEO Collective, the top fakes the look of a skinny scarf without the need for an extra piece. It can easily be tucked into a leather midi skirt or high-waisted pants. Add a mock turtleneck underneath to keep it sleek and sophisticated.
C/MEO Collection Day 1 Shirt, $130 at Fashion Bunker.