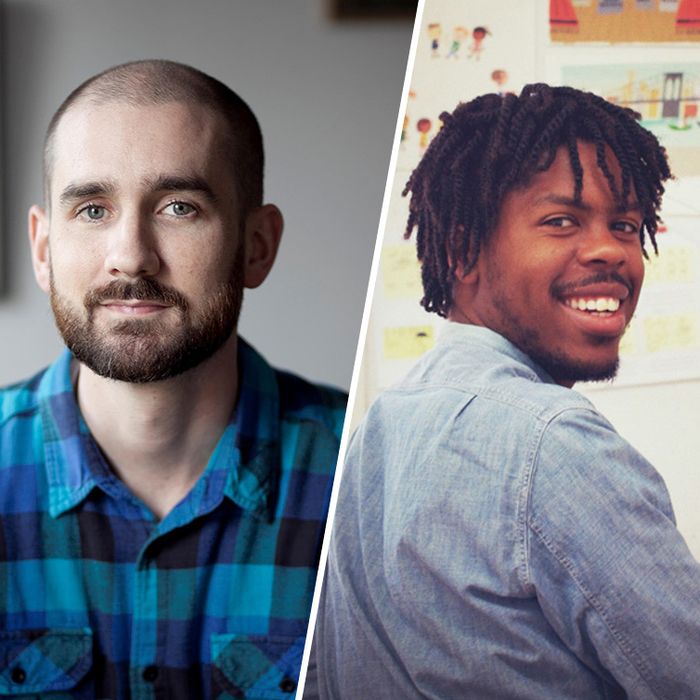 Oliver Jeffers, Peter Brown, and Christian Robinson.
Photo: Patrick McMcullan, Peter Brown, Christian Robinson
When I got to my local children's bookstore for story time last week, there were orange and white balloons hung up all around the porch. A manic energy teemed through a crowd that seemed to be more women than squirmy children. Usually one or more of the omnipresent Portland dads attend story time, but on this day of all days, the dads stayed home.
For this was no ordinary bookseller-hosted story time, attended by two or three kids: This was guest-author story time. I'd been to a few of these, but never one so crowded. The guests' book, Leo: A Ghost Story, had been displayed prominently at bookstores all around the city — but still, 3 p.m. on a Thursday? Then the author and illustrator duo, Mac Barnett and Christian Robinson — both well-dressed 30-somethings, both conspicuously attractive — made their way through the crowd. They were led by the beaming bookstore owner, who exhorted us to give them a warm welcome, and everything began to make sense.
I've been to my fair share of kids'-book events and long admired the women who have made careers out of stepping into the brain of a little kid and shepherding them through imagined worlds of joy and wonder. These women are generally in their mid-50s, with great glasses, admirably draped Eileen Fisher duds, and expensive sandals. I want to be them. I spend the readings wondering how hard it could be, really, to write a children's book. They're like, what, 20 lines? Hide a little mouse on different parts of each page and boom, I've got a flowing kimono sweater and a new life purpose.
But these two I was not prepared for. I have been absent from the world of men for so long — I work from home as a writer, I have a 16-month-old, I just moved across the country to a new city —  that seeing these two attractive young men jog out holding props and doing animated readings of their work (full of audience participation!) had me swooning in my miniature chair.
Who were these guys? My son sat rapt while the men read from their various masterpieces, and I mom-Tweeted like a high-school girl. I had to have a kid and go to story time in order to learn about Mac Barnett, but where I had failed, my more eligible peers could prosper. "If anyone wants to know the name of a cute young children's book author to have a crush on, a great idea frankly, DM me," I wrote. Immediately, my phone started buzzing.
It turns out I was not the first to fish in this pond.
"Tell me yours and I'll tell you mine."
"Jon Klassen."
"GIRL."
"Oliver Jeffers is mine, step off."
I should not have been surprised to learn this was well-trod territory. If you think about it, the young male children's-book author (or illustrator) is in many ways the perfect crush: artistic but in a productive, financially solvent way; imaginative, filled with empathy and quiet wisdom — like a dad, but not. Like a dad, but single. Children's-book guy will wake up just before you, stepping over your rescue dog to start the Chemex and make you both pancakes (childlike wonder). Children's-book guy skateboards to work, or at least rides a bike. He leaves little doodles and love notes around your apartment. Children's-book guy keeps plants. He appreciates great light. He dresses well, nurtures his body as a way to nurture his creativity. His aesthetics on the page are reflected in his rough-hewn but well-appointed studio. He's nice. A great person, but with a dark side (the best children's books, after all, are filled with existentialism). Like Joan Didion, he keeps a notebook. And a blog. He feels most himself late at night working on something that's going well, or in front of a crowd of young children whose hands shoot into the air when he asks for a volunteer. Or maybe I'm getting carried away.
"Illustrators are ALL attractive," said Jennifer Daniel — illustrator of the kid's book Space and New York Times graphics editor — in an email. "It is a requirement. I think the librarian lobby is behind the illustration eugenics movement." I always knew I felt a kinship with librarians.
Christine Onorati, owner of WORD Bookstore and mom to three kids, laughed in recognition when I asked her about hot kids' authors. "I mean, what could possibly be more attractive than someone who devotes their craft to bringing joy or knowledge to children?" she said. "It's kind of attractive in and of itself." Especially if they are in fact objectively attractive: "I mean, have you SEEN Oliver Jeffers? Peter Brown? They are all adorable. And so are their books."
I hadn't seen them, but Googled them immediately. What the hell. I knew Jon Klassen did I Want My Hat Back; I knew Oliver Jeffers did the damn Hueys books and The Day the Crayons Quit, plus its sequel, The Day the Crayons Came Home. In the world of little kids, these book are inescapable, ubiquitous. And great, too. What I did not know is that these books were made by attractive men in their early 30s.
"When Oliver Jeffers is here, pretty much all bookseller productivity across genders and sexual orientations grinds to a halt," McNally Jackson's Cristin Stickles told me. "I can't think of a female children's-book author who has received that kind of attention at the store. Part of it has to be due to the industry being so female-majority, but I worked in kids'-book publishing for ten years, and plenty of people make comments about how crush-worthy male authors are during internal sales and marketing presentations."
Maybe it's that women make up publishing's rank and file; maybe it's that this sort of chatter about a woman's appearance would read as far more creepy; maybe it's that a man invested in the brains of little children feels sadly exceptional.  
"Sometimes it's in thinly veiled code  — 'he's very media-genic,'" Stickles continued. "But most of the time it's just flat-out 'look how hot this dude is.'"
Stickles recommended I contact her friend and former co-worker, novelist Sarah Gerard. Gerard has long harbored a crush on the famously hot Jeffers, but was careful to pin his appeal to his work ethic: "I believe much of Oliver's hunkiness is in the fact that he's a hard worker and seemingly has his hands in many projects, both for adults and for children … [Talent-wise], he's technically flawless but is also so smart and so sensitive, with a healthy sense of humor. Someone I'd want to talk to for hours, you know?" I do know. Born in 1977 in Australia, Jeffers grew up in Northern Ireland; his accent is a combination of "hot chimney sweep" and Crocodile Dundee. His eyes are bright and wide, his hair chin-length, his books New York Times best sellers. It's a lot.
I asked Stickles if, given her experience with the industry, she thought children's-book creators would make good romantic partners. Don't crush my dreams, I added quickly. "If you are looking for someone very in touch with their feelings and their inner child who has an artistic temperament, then, yes, this is a pool for you to fish in. If not," she warned, "I'd cast a wider net."
In other words, come on in. The water's fine. Well, the water is a little touchy on a deadline. Prone to tantrums, eager to please. The water always has the damn notebook. Really hot, though, that water, in a totally industrious, respectable way. Great books, too. You heard it here first.