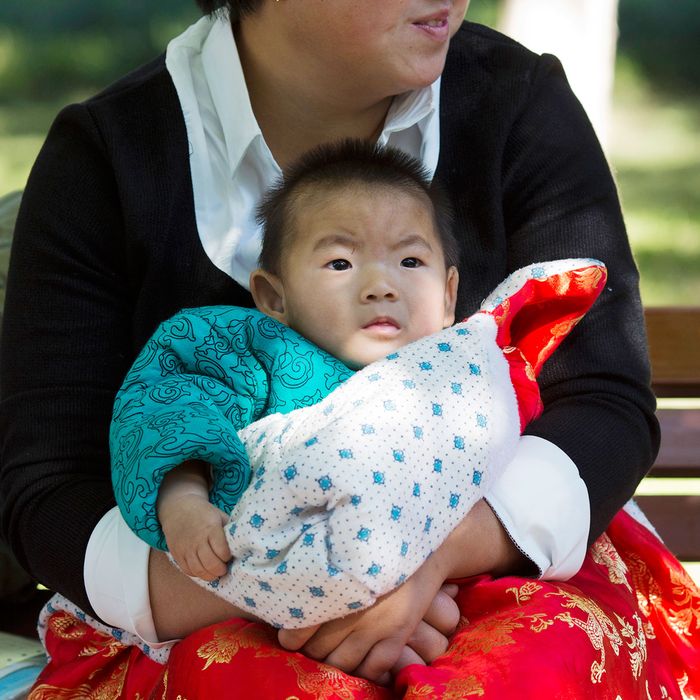 Photo: Ng Han Guan/Corbis
The Chinese Communist Party announced the end to the one-child policy yesterday after 35 years of enforcing the controversial plan. In an effort to alleviate an aging-population problem, married couples are now able to have two children per household. But it doesn't seem like many families will be rushing to fill out their ranks.
After decades of fear over the punishment that comes with a second pregnancy — a fine ranging from twice to eight times the annual income of both parents, according to a finance column in People's Daily, or, worse, forced abortions — the people aren't as relieved by the groundbreaking decision as one might have predicted. In fact, in a poll conducted by Sina, the Chinese media company that operates Weibo, more than 42.9 percent of respondents voted "no" when asked if they would consider having two children.
For many couples, it's not the issue of whether they want to have another baby. The primary reason for their doubts about growing their family is the staggering cost of raising an additional child, according to an online survey conducted by Wall Street Journal columnist Horatio Fu. Sunshine Life Insurance Corporation Limited once quoted the minimum amount needed to provide a child basic living and education until he or she reaches adulthood: 300,000 yuan, or $47,500. According to government figures published in 2012, a non-private-sector worker in China makes an average annual salary of 28,752 yuan, or $4,755.
Paying for fresh diapers and piano classes are far from the only costs associated with raising a child. Even with soaring property prices in China, having enough for a down payment on a house is still a requisite factor in starting a family. In a recent survey conducted by Fang.com, more than 57 percent of respondents are unwilling to settle down with a person who does not own any property. In 2013, China Daily reported that monthly mortgage payments take up an average of 40 to 50 percent of family income. Combine that with a cultural expectation to financially support one's elderly parents and in-laws into their old age, it's no wonder why China's millennials — the lone generation of only children born under the policy — are taking to social media to voice their frustration over their mounting financial burden.
"What a unique generation we are," wrote a Shanghai-based woman born in the 1980s. "As children, we were forcibly 'singled': No brothers or sisters—no one to stand up for us in a fight. Now that we're finally grown ups, the Government wants us to pop out more kids. So, our generation will be taking care of four elders, two children, and possibly four grandchildren later on … The most important thing? Plans to retire will probably need to be pushed back, and we'll be competing for jobs with our children."
Apart from anxiety for the future, a sense of loss also looms large. The BBC estimates that about 400 million births have been prevented since the scheme has been in place. Without a heavy fine, children born outside the state plan were not eligible for permanent residency and face difficulty with school enrollment. Some believe that recourse is justified from the National Health and Family Planning Commission for the harsh penalties their families once suffered, with a few sharing their personal anecdotes online.
A Weibo user in Shenzhen was among the group that came forward. "My youngest sister was the third baby in the family," she wrote. "She basically went in hiding as soon as she was born but alas, we were snitched on by an acquaintance. My dad got dragged away in his sleep and was incarcerated for about two weeks. We were eventually fined 5,000 yuan and my mother was forced to get an IUD."
However, not everyone is up in arms about being deprived of a sibling. Some women were comforted by the fact they had dodged the possibility of being subjected to gender-based favoritism in the family. "I'm lucky to be born under this system," a woman from Hebei province commented on Weibo. "Sure, my mother did face pressures to have a son when I was still a child. But if I did have a younger brother, I'm not sure if I would have been able to go to university."
It's worth pointing out that even with the Communist Party revoking the controversial policy, female reproductive rights are still out of the hands of Chinese women. With fewer legal obstacles, the pressure to birth a son — from husbands, in-laws, parents, or even the women themselves — might rear its head again. Chinese feminist publication Women's Voice summed it all up with one poignant question: "Has women's reproductive rights been shifted from the patriarchal forces of the Government to the patriarch forces within the family?"