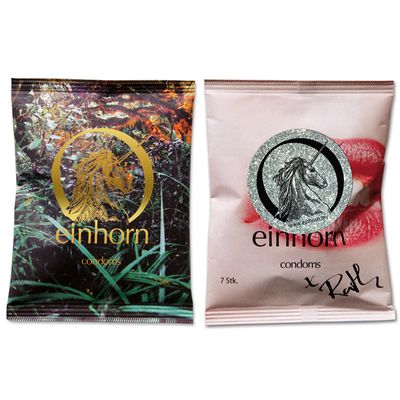 Einhorn is really into packaging (and packages).
Photo: Einhorn
A sustainable-condom war is brewing in Germany. Fair trade condom-maker Einhorn — that's unicorn in English — recently defended its whimsical packaging in court after rival Fair Squared filed an injunction banning it from claiming that its packets of seven condoms "corresponds to up to 21 orgasms." Einhorn's lawyers, who want the decision overturned, argued that it's obviously a joke. The company does, after all, sell a bag called "food porn" that's printed with French fries. But the judge was having none of it.
As the Associated Press reports:
Presiding Judge Johanna Brueckner-Hofmann said the slogan is "suited to deception" and could tempt people to use the condoms several times. She said "that is why we banned this." Brueckner-Hofmann said condoms are medical products and their packaging subject to "particularly strict requirements."
The final ruling will happen on November 26, but in the meantime you can rest easy that even a judge thinks promising multiple orgasms is a lie.