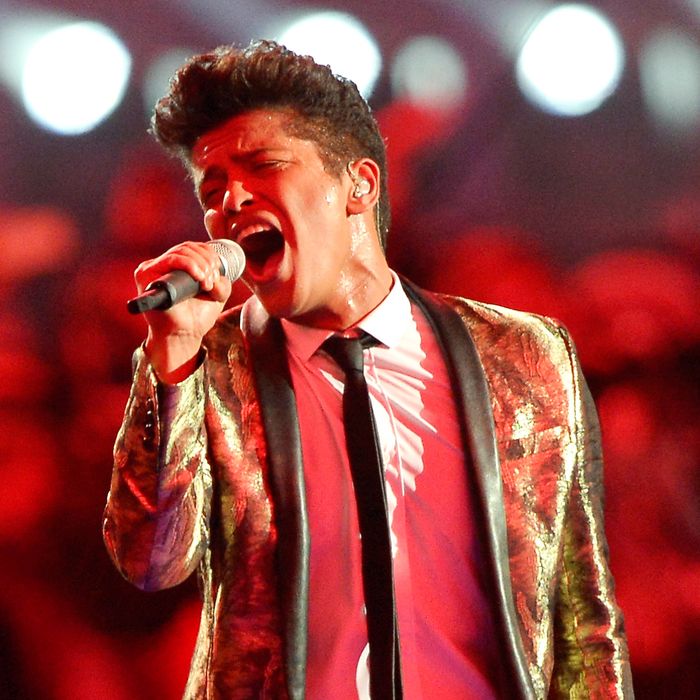 Bruno Mars.
Photo: Bill Kostroun/Corbis
The last we left him, tiny ball of burning fire Bruno Mars was reportedly being asked to perform at the 50th Super Bowl halftime show in 2016, a well-deserved honor for an exciting performer and musician. Today, we've learned that the very same man (née Peter Gene Hernandez) has signed on with NBC to produce a family comedy pilot for television. Congratulations to Mr. Mars-Hernandez. What an exciting year it has been for you.
According to Time, "Empire executive producer/Imagine co-founder Brian Grazer is among the EPs on the single-camera project, as is Mars, whose music likely will be used in some capacity." Great. Truly, if anyone deserves it, it is multitalented showman, songwriter, and dancer Bruno Mars — you'd be hard-pressed to find one person who doesn't agree that he is friggin' great!
But has anyone taken a skrrt-pause to ask why Bruno Mars has not announced a tour this year? Or a new album, hm? "Uptown Funk" was the biggest earworm of both 2014 and 2015, and that video — that pink suit! damn — was so mesmerizing. His subsequent TV performances would put a smile on your face even if moments before you had lost a limb to a hungry tiger shark who learned how to walk on land. It's been three years since Mars's last record, and his comments on his upcoming third record, were (rudely) that he'll keep working on it "until it's done." Speaking of done, until you make some new music and/or deliver me an NYC tour date so I can awkwardly get down to "Uptown Funk," we're also done, bub. Let's go. No more shenanigans.