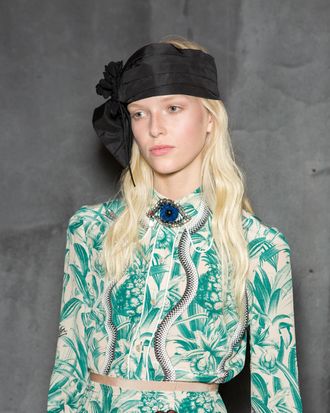 The hair at Gucci.
Photo: Imaxtree
I counted 25 of them. In three or four sizes at every hairstylist station, there they were: mysterious red-and-gray curling irons. They were different from the ConAir Hot Tools often seen backstage, but they had no discernible label or brand. Finally, using my paltry French skills, I started asking hairstylists what they were. All of them said they were Korean curling irons from a Korean brand, whose name they didn't know.
Since the curling iron normally comes from a distributor, no one knew where to buy it. But everyone had explanations for why they loved it. "It heats up superfast" was a common answer as to why this curling iron was so great. "And the barrel turns so you can curl either way."
Paul Hanlon, the always-kind stylist who has created the hair this season for Louis Vuitton and Gucci, admitted he didn't know the name of the iron either. But "the quality of the steel is food for the hair. The barrel does rotate [both left and right] but you can also lock it. It's lightweight and can heat up in five seconds. Hairdressers are quite particular and for me, these work."
After some online sleuthing, I discovered that the curling iron is by a brand called Create. (You can see a picture of it here if you scroll down.) The website says it is made of a tourmaline and ceramic barrel, and "a real ceramic stone heater generates far-infrared rays and negative ions to provide shiny and silky hair." The only bad news is that due to a difference in electrical voltage, it only works in Paris, Milan, and London, Hanlon told me — so, lucky for you readers living there.
For a similar effect, U.S. readers can instead look out for Gisele's hairstylist Harry Josh's new curling iron. Like Create, Harry Josh's version is also made in Korea. ("It's where the best hair tools are made," he told me.) It's also convertible and able to go from a marcel (a curling iron with a clamp) to a wand. I have yet to try either one, but it sounds like Korea may appear to do it better when it comes to skin care and tools.