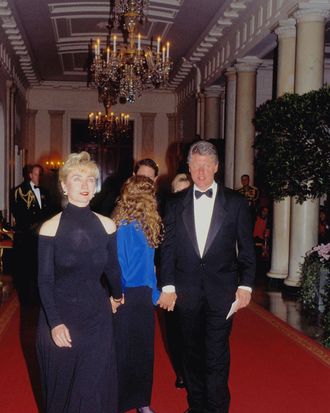 Photo: Mark Reinstein/Corbis
The "Cold Shoulder" is arguably the sexiest dress Hillary Clinton ever wore as a public figure. It was 1993, at her first official White House dinner as First Lady. The dress's name referred to its two prominent cutouts, which revealed a body part that, as its designer, Donna Karan, pointed out, looks good no matter your age or body type. It looked good on Clinton. "Not your father's Oldsmobile," one pundit quipped, advancing a tradition of (often sexist) HRC outfit commentary still going strong 23 years later.

As Clinton attempts a return to the White House, it's instructive to look back at how Karan thought she, and other powerful women, could dress. In fact, if Clinton does become our first female president, she'll be stepping into a role Karan envisioned back in the '90s with "In Women We Trust," an ad campaign picturing the commander-in-chief as a working mom in well-cut suiting. In her just-released memoir, My Journey, Karan explains her namesake line's original mission statement: "You'll look chic, sophisticated, and as authoritative as any man in the room. Only you'll look like a woman." The language sounds dated, but the idea of using feminism to sell clothing feels entirely current, and that's because Karan pioneered it.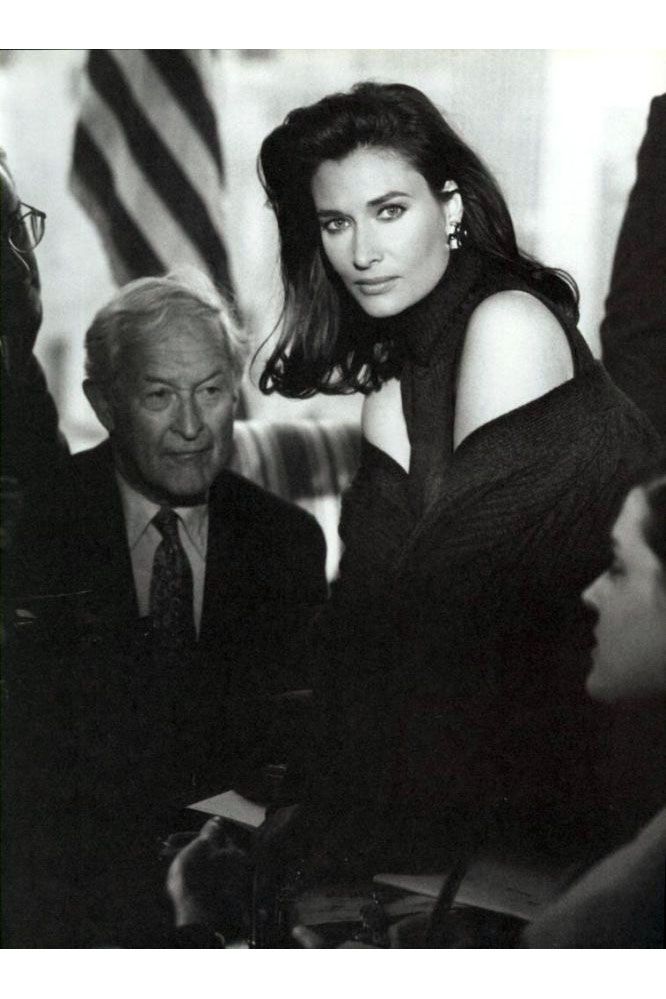 What did the Cold Shoulder dress mean? Sally Quinn at Newsweek speculated: "Clinton needed to make a statement about the fact that, although she is in charge of health care, she is not eschewing her duties as first lady." The minimal black sheath first appeared on the front page of the New York Times, in a photo of Clinton inspecting table decorations. It was accompanied by her first White House interview — focusing mostly on dinner menus. Quinn: "Newsrooms all over the country are struggling to define how to cover Hillary Clinton … National or Style, health care or food, politics or fashion? Where does she belong?"

Where did women belong in 1993? The American female had stumbled into a "superwoman trap," Betty Friedan wrote in her 1981 book, The Second Stage. They were trying and failing to find "security, status, power, and fulfillment in the competitive rat race, like men," but hadn't stopped slaving over decorating and dinner-party menus. Donna Karan's clothes offered a fix. Her wrap skirt was draped to be thrown into suitcases for last-minute trips. Her bodysuits would fit comfortably under slacks or evening dresses. Her tights were so opaque, no hemline would ever seem too short. If there was no way out of the superwoman trap, at least you could settle in comfortably in swaths of Italian cashmere.
 
Also, the clothes oozed sex. They were stretchy and clingy in the right places, pushing women not to be afraid of showing their bodies. "Embrace it. Celebrate it," Karan writes. "I'm sure I've improved sex lives." When she launched her namesake line in 1984, professional women were wearing boxy suits and shoulder pads. Meanwhile, brands with chicer fare assumed their customers didn't work and were paying with their husband's checkbooks. Karan tapped into a new market of women who paid for their own designer clothes and wanted to look like it.

"In Women We Trust," which came out in 1992, starred model Rosemary McGrotha as a fictional female president, boarding planes, giving speeches, and hanging out with her infant in a wardrobe of tailored blazers and windswept hair. President McGrotha is sexy enough to wear her blouse unbuttoned, hinting at a glimpse of her bra — and powerful enough that her all-male bodyguard posse pretends not to notice. One year later, Karan's clothes made it to the White House for real, on Hillary Clinton as well as on Bill, who wore Karan's menswear suits to his inauguration and throughout his presidency.
Was "In Women We Trust" empowering? Or was it, as then-NYT op-ed columnist Anna Quindlen argued at the time, camp? ("Camp is how the nation still sees [the idea of being led by a woman] as well," she noted.) In any case, Karan's "In Women We Trust" ad is still far more believable than most other fictional portrayals of female presidents. One early version, in the 1964 comedy Kisses for My President, sports a mom-ish wardrobe of high-necked sweaters and cropped jackets — and lives happily ever after only after she gets pregnant and resigns. More recently, designer Rachel Antonoff, in her collaboration with H&M's & Other Stories, imagined a fictional female president who wears polka dots, skater dresses, and lots and lots of Peter Pan collars. The short film, Vote Audrey, directed by Lena Dunham, tells the story of a young politician who, after winning the election, appoints her mom as First Lady, promises to fight on behalf "women, children, and small animals," and dances in storms of rainbow confetti.
In the end, sex and power weren't quite as effective a combination for Clinton as they were for fashion advertising. Less than a year after she wore the Cold Shoulder dress, Clinton appeared in an Annie Leibovitz Vogue spread of Karan pieces. Though the clothes, including a black turtleneck and a velvet evening gown, were hardly body-hugging, the shoot provoked even more controversy than the earlier New York Times photo. "This is Hillary the sex goddess," one columnist wrote. "It just seems kind of odd," a former Reagan imagist told Maureen Dowd. "Now that she's proven herself as an individual and been tough, why then get back to an image strictly based on femininity?" No matter that Clinton had insisted the evening gown be worn high, like a turtleneck, rather than off the shoulder, as designed. These days, Clinton is more likely to be seen in what Robin Givhan called "a desexualized uniform" — the pantsuit. In 2010, when a moderator at a panel in Kyrgyzstan asked the secretary of State about her favorite designers, she responded, "Would you ever ask a man that question?"
I called Karan and asked whether she thought fashion had been used against powerful women like Clinton. "I don't think it's been wielded against them," she said emphatically. "A lot of women on TV look sensual. They don't look masculine. They look like women." Moreover, she noted, female leadership is what the country needs. "We need a president who has the sensitivity of what it's like to be a working mother and the mother of a country." In her book, Karan writes of helping women access "feminine" power, which, in contrast to male power, "[brought] out everyone's best side while encouraging and nurturing." (The description almost perfectly mirrors Friedan's description of a "Beta" leadership style centered on "fluidity, flexibility, and interpersonal sensitivity," which she hoped would circumvent the superwoman trap.)
Is "looking like a woman" still a power move? In our era of increased gender fluidity, when agender fashion is growing in popularity, even talking about power and style in terms of male and female feels like a throwback. One thing is certain, though: Looking sexy isn't acceptable in the office. In the 33 years since Karan started Donna Karan New York, workplace gender politics have vastly improved, but not enough for women not to be stigmatized for outfits deemed "distracting" (and occasionally fired over them). Compared to the power-dressing era, just about any garment is acceptable as long as it follows a near-universal, implicit rule: Avoid sexiness or risk not being taken seriously. Cutout-shoulder dresses are back, but they're being worn by Kim Kardashian.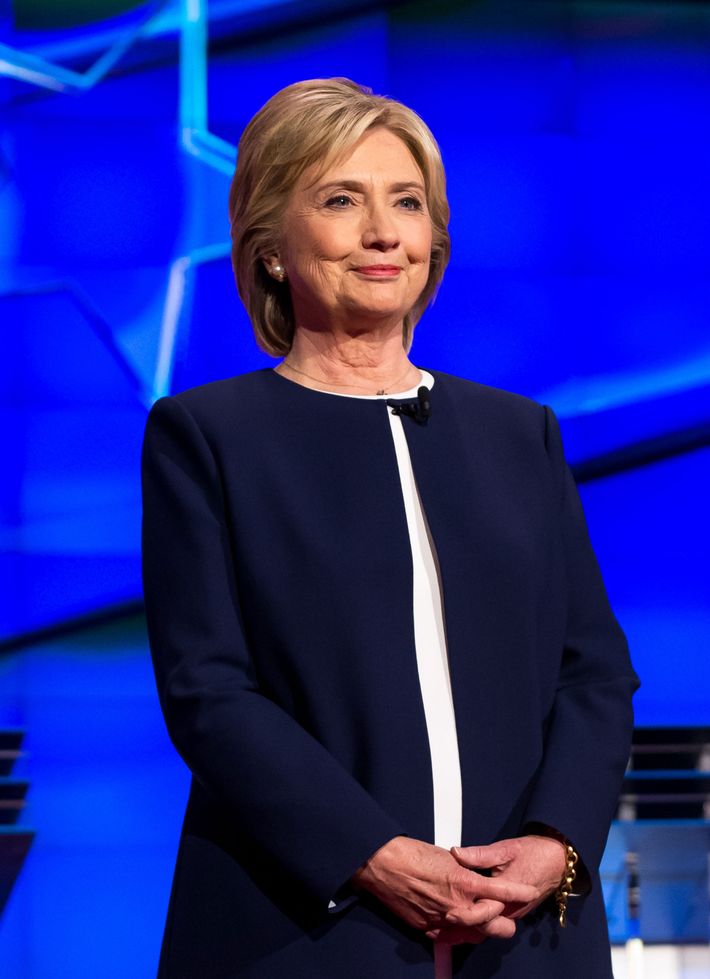 It's perhaps not a coincidence that Karan's current project — Urban Zen, a philanthropic foundation and a purveyor of artisanally made goods — has less to do with career clothes. In June, Karan stepped down as the designer of her main line. LVMH, which owns the brand and DKNY, suspended the collection and has yet to hire a replacement.
What happens if you want to look feminine at work but not sexy? Often, you end up looking like you're on the set of "Vote Audrey," the Rachel Antonoff/Lena Dunham female-president fantasy. In the realm of political fashion, femininity most often manifests as cuteness, for instance, in the Easter-egg-colored blazers and statement jewelry favored in varying degrees by everyone from Carly Fiorina to Sarah Palin to, occasionally, Hillary Clinton. Though at the Democratic debate, Clinton's navy blazer seemed designed to forestall any fashion-related commentary that singled her out from her male peers, elsewhere, she's carefully deploying femininity. On her Instagram, for instance, feminist nail art and retro fashion #TBTs sit amid quotes supporting Planned Parenthood and photos of voters at campaign rallies.
Karan doesn't personally go for cute when she gets dressed. "Because I'm not a girl, I'm a woman!" But she also didn't think the phenomenon represented any kind of regression. "I'm not sitting here saying how a woman should dress. Empowerment isn't about one style, it's having a personal style and wearing what you want to reflect it." What does Hillary's style reflect about her? "She's constantly on the go. It takes a huge amount of responsibility to be president of the United States."