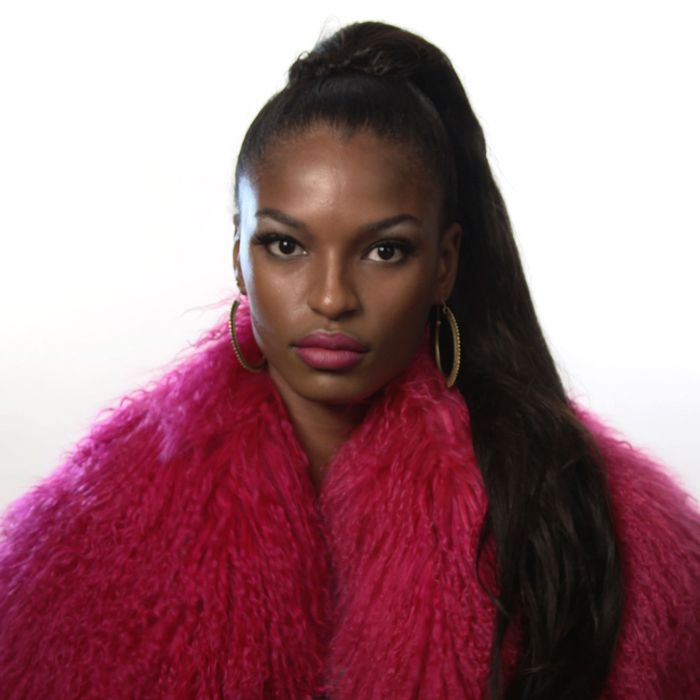 Cookie Lyon: She's here to get what's hers.
For today's Halloween GIF tutorial, we're moving from the O.G. boss-lady to hip-hop's furrier-in-chief, Cookie Lyon. To combine two of her most impressive looks — from her first appearance on camera and her vivid boardroom makeup — the Cut enlisted help from Bumble and Bumble hairstylist Tamas Silva and M.A.C Cosmetics' senior artist Michelle Clark. Here, they illustrate how becoming Cookie is actually a piece of cake.
Prep: Let's pay attention to the hair first. Tamas sprayed Bumble and Bumble's Thickening Hairspray to model Tsheca's dry hair from root to ends before blowing-drying it straight with a round brush. You can use the spray on wet hair, too — both ways lead to hair that's structured with a soft hold. Once the hair is blown straight and secured in a high ponytail, add some weave to achieve Cookie's over-the-top length. Tamas wrapped extensions from Indique around Tsheca's ponytail and hooked the wefts with hairpins so the additional hair wouldn't slip. For a tighter budget, try this Wrap Around Pony in Natural Black or Dark Brown from QVC.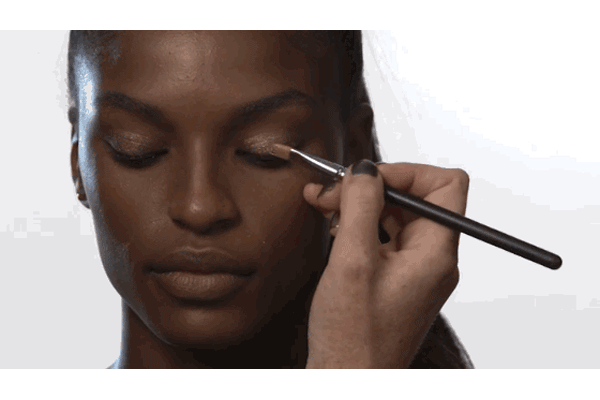 Step 1: Now, on to the eyes. Prep lids with a base that will help eye shadow stay in place all night, like M.A.C's Prep + Prime formula. Once you've spread the base all over your lid, pat, don't swipe or brush, M.A.C's gold pigment powder all over the bottom half of the lid with a flat, synthetic brush. Swiping instead of pressing the pigment onto lids will create a blotchy texture.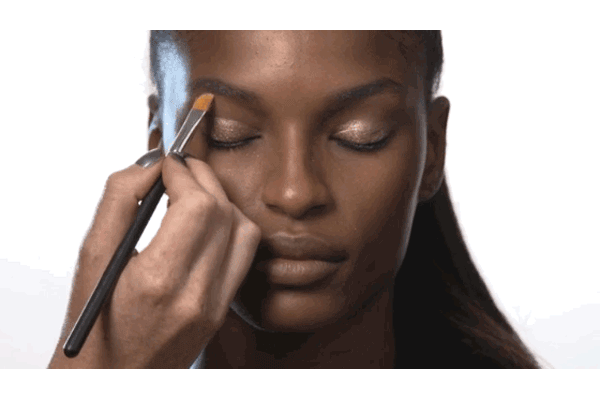 Step 2: Cookie went to jail in the late '90s, so a lot of her earlier makeup looks in the first season feel outdated on purpose, Empire's lead makeup artist Beverly Jo Pryor once told the Cut. This includes the intensely highlighted brow bone. To re-create the look, apply a concealer several shades lighter than your skin color. Top that color off with a gold shadow, like M.A.C's pressed powder in Nylon.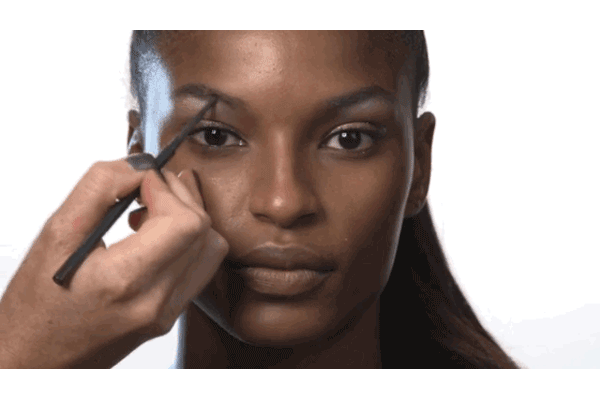 Step 3: Moving along to the eyebrows, fill in brows with a pencil like M.A.C's Stud, a dark brown. You want to define the brows, not make them appear fluffy or full, so only use this step to patch sparse-hair areas.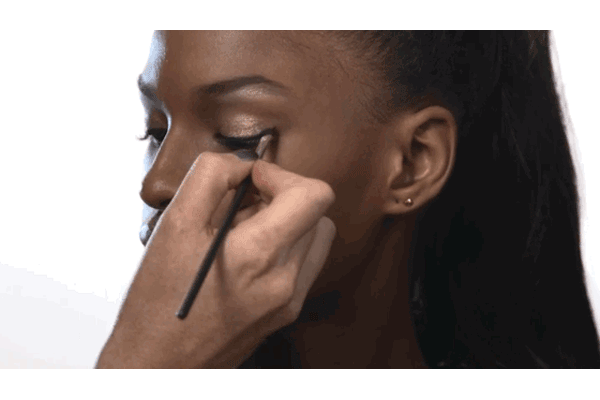 Step 4: For Cookie's cat-eye, makeup artist Michelle Clark used a pencil to hone in on the '90s vibe. She drew a line with M.A.C's Feline, beginning from the outside corner of Tsheca's eye to the inner corner, in short strokes. She then retraced this line to amplify the richness of the black. This cat-eye is meant to be good, but not great — something for someone who is a bit rusty with her eyeliner skills.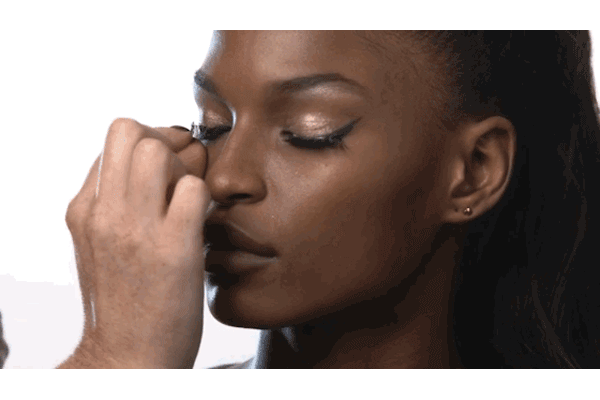 Step 5: Cookie just wouldn't be Cookie without a set of faux lashes. To apply a pair, line the rim of the falsies with a thin layer of lash glue, like Duo's adhesive. Wait about 30 seconds for the glue to become tacky, and grab the midpoint of the lashes and place it directly on the center of your lash line. Bend the outer ends of the lashes to conform to the shape of your eye. If you mess up, peel the layer of glue from the lashes and try again.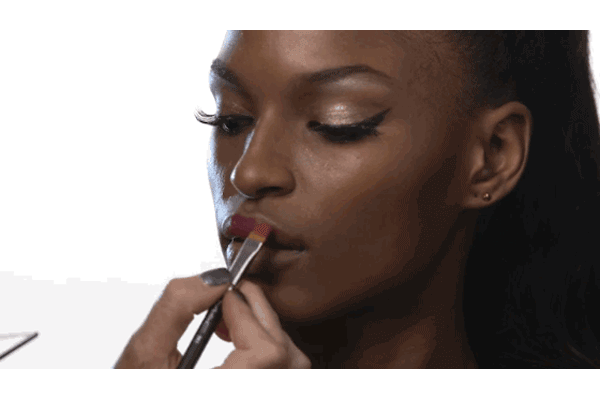 Step 6: Finally, to cap off the look with a lipstick just as intense as Cookie, Michelle selected M.A.C's iconic Pink Pigeon.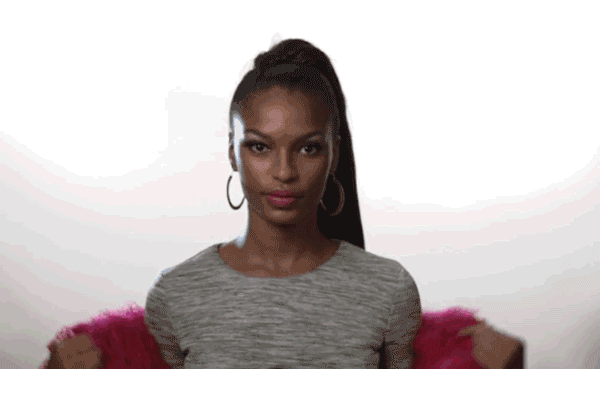 The final look.
Hair: Tamas Silva for Bumble and Bumble; makeup: Michelle Clark for M.A.C Cosmetics; fur stole by Adrienne Landau, for a similar piece, try this hot pink boa from Amazon.