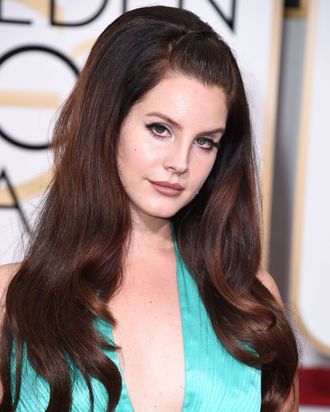 Lana Del Rey
Photo: Steve Granitz/WireImage
Here are some adjectives to describe Lana Del Rey's aesthetic: ethereal, serene, melancholy, soft, blithe. It's hard to actually imagine the singer's everyday life because one presumes she spends it shooting helicopters from the sky and crying individual tears into eggshell-blue ceramic jars, ones she'll wrap in tissue and twine to then mail to her former lovers. But we learn in a new Billboard cover story on the star that ha ha, no, her daily life is not so different from yours or mine:
I go for long walks, long drives. I'll get in the car and drive the streets, feeling for places. I go to Big Sur. I love Big Sur, but it has gotten so touristy. I went to the General Store, and there were hordes. On a Monday! But I'm drawn there. Sometimes I go to write. I've been thinking it might be time to do a longer video, a 40-minute video. I was watching The Sandpiper, and I was working on something kind of based on that.
Oh, yeah. I did all of those things just last weekend. What is it that young Lizzy Grant feels about Big Sur? "Big Sur challenges me to surrender. What draws me is … the curves. I'm really drawn to the curves." Perfect. Thank you.
She is also "terrified of sharks."