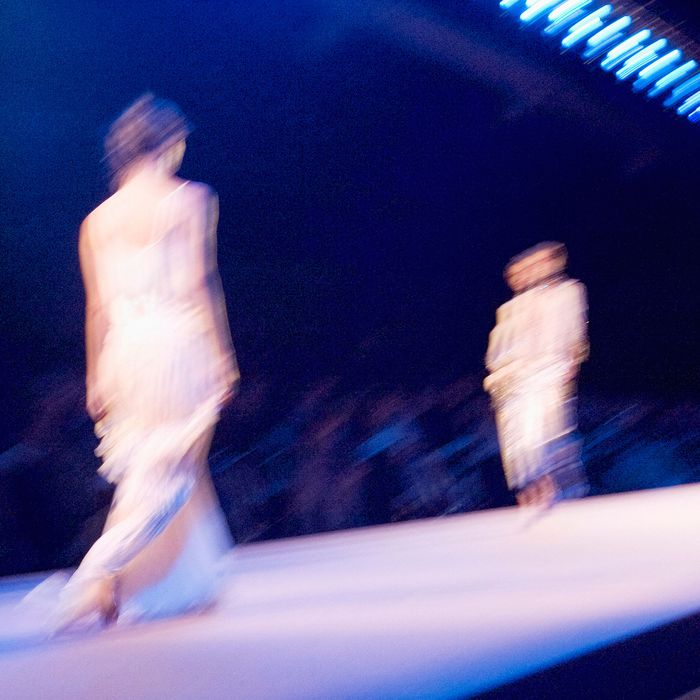 Photo: Mark Leibowitz/Masterfile
"Bought and brought." It's a phrase that came up when I interviewed Jeremy Scott about his documentary, and one I keep thinking about in light of Raf Simons's headline-making departure from Dior. The Moschino designer used it to refer to the talents who are plucked from their London, New York, or even more remote bases, and spirited off to Paris to work for luxury fashion houses. Think of J.W. Anderson, London wonder boy turned Loewe chief; Alexander Wang, trading the mean streets of Soho for takeout-filled weeks in a hotel working for Balenciaga; or Humberto Leon and Carol Lim, splitting their Opening Ceremony responsibilities with Kenzo duties.
When these collaborations work, it's alchemy of the most beautiful sort. But just as often, there's a parting of the ways, grimly announced via a carefully phrased statement that faults neither party. And these breakups are getting more frequent even as the relationships get Tinder-match short. These designers have studios, dollars, and huge publicity machines at their disposal, but they don't have the luxury of time: time to develop an idea, time to set it aside, time to fail in the way that you inevitably need to when you're starting any kind of creative enterprise. "When you do six shows a year, there's not enough time for the whole process," Simons told the Cut. Keep in mind that between Dior couture, ready-to-wear, menswear, his own line, and pre-collections, Simons has been doing ten collections annually. At that rate, "you have no incubation time for ideas, and incubation time is very important," Simons reflected.
Instead, there's that pressure to have the most talked-about show, in the most arcane locale, to move the most merch, to move the Twitter needle, get all the likes, befriend/dress/selfie with the right celebrities, make things that are going to surprise people (couture sneakers! fur loafers! puzzle bags!) while also making sure that your vision isn't too off-kilter to sell thousands of units. It's enough to rattle even someone like Simons, a 47-year-old veteran who helmed Jil Sander for years. Think about what it's like for a 20-something newbie landing directly in Paris. No wonder Suzy Menkes refers to the world of luxury appointments as "the lion's den."

Complaints about the acceleration of the fashion industry tend to center on "fast fashion": the need to have new pieces on the rails every week, which both contributes to and stems from the turbo-charged pace of trends. But that need for speed has bled over into every sector of the fashion industry, and it shows no signs of slowing down. Not only are designers missing the "incubation" time Simons refers to, but they have a shorter span in which to make their mark — a few seasons, at best. And if they don't succeed, they're out.
Some say this kind of pressure is invigorating, that they thrive under it. J.W. Anderson told the Cut, "It's never bothered me. I think probably I'm addicted to work; I enjoy it." But many designers decry these erosions — Donna Karan has been among the most vocal. Nicolas Ghesquière told System magazine that his former employer, Balenciaga, "sucked me dry," saying that he found zero support for his vision there. And Alber Elbaz told the crowd at Thursday night's FGI Night of Stars event that designers like himself "started as couturiers … Then we became 'creative directors,' so have to create, but mostly direct. And now we have to become image-makers, creating a buzz, making sure that it looks good in the pictures." (The speech is worth reading in full.) As with inclement weather, everyone complains, but no one's really doing anything about it.
It's not a new phenomenon, by any means: John Galliano and Alexander McQueen were "bought and brought" to design Givenchy at key points in their careers. For Galliano, who was later traded to Dior, the stress involved in doing couture, ready-to-wear, his namesake line, and a million other duties resulted in what he called "the crash" of drugs and alcohol. He told Vanity Fair, "With more collections, the crash happened more often, and then I was a slave to it," adding that he lived in a "bubble" where he didn't light his own cigarettes and had never used an ATM.
McQueen's time at Givenchy was equally fraught, eventually resulting in his breakaway to Gucci Group, and a renewed focus on his namesake collection, where he channeled his demons. Burnout has been cited by several designers who have quit the industry altogether: Ann Demeulemeester dropped out of the rat race with a PDF manifesto, and Jil Sander quit her label not once, not twice, but three times. Jeremy Laing, one of my favorite young designers of the past decade, told The Globe and Mail that he'd left the business over these concerns. "What comes first: an idea or the fact that you have to sell something?" he asked. "And what becomes your most important impulse: that you like your ideas or that you have to sell something?"
What would have to change to ensure that we don't lose future talents like this? Luxury conglomerates have embraced environmental sustainability and helped turn it into a marquee issue. But what about the sustainability of talent? Creative geniuses don't come around every day. Companies need to invest in cultivating the people they hire, something that will serve their balance sheets in the long run, too. Think of Burberry, which has concentrated heavily on its company culture, to the point of hiring a chief people officer to oversee that side of the business.
And designers — at least, those who are in a position to do so — need to throw their weight around. Hedi Slimane, for example, insisted on a Los Angeles base and complete creative control before returning to the fashion fold with Saint Laurent — those choices have allowed him to remain sane and in control, and he had bargaining power because of the reputation he'd built up. But with the current trend moving toward snapping up little-known talents (like Alessandro Michele at Gucci and Demna Gvasalia at Balenciaga), those designers are less able to advocate for themselves.
It might seem beyond the pale to worry about the work-life balance of people who have Town Cars idling for them at every turn, or to hand-wring over the psychological wellness of creative directors who are making more money a year than most designers will see in their careers. But creativity and vision are finite, and they're not renewable resources. If we aren't careful, they'll disappear, along with the people who possess them.

Additional reporting by Bennett Marcus.