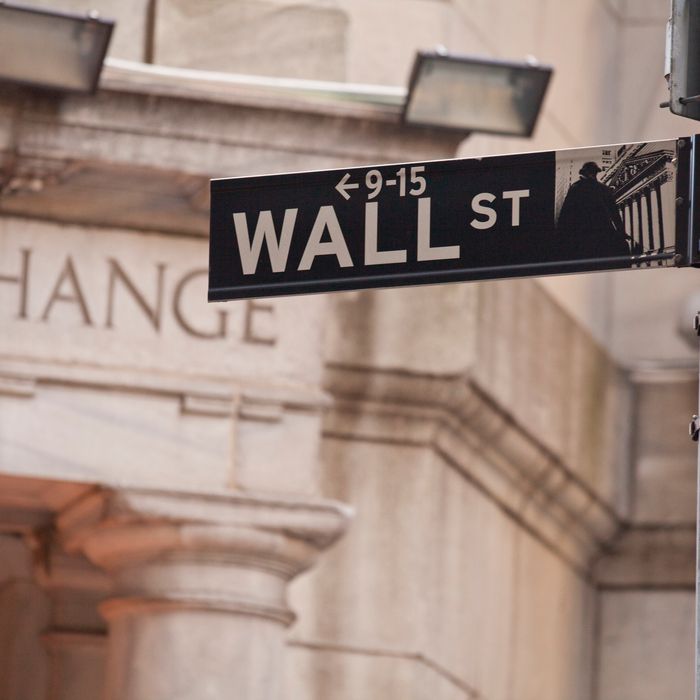 New York's Sex Diaries series asks anonymous city dwellers to record a week in their sex lives — with comic, tragic, often sexy, and always revealing results. Check back Sunday nights for your weekly peek behind doors left slightly ajar. This week, a hedge-funder with a crush he can't quit: male, 30, Nolita, straight.
DAY ONE
9 a.m. For the last few months I've been dating a woman, Estella, who is way above my pay grade. She has it all: looks, personality, success, confidence, a Harvard MBA. The most astounding thing about her is that she knows how to give me just enough of her. She is rarely available; she rarely initiates contact; yet when we are together, she is fun, warm, sexy, and engaged. We met at one of those all-the-mimosas-you-can-drink brunches downtown. I just landed in New York after two weeks away, and already she's all I'm thinking about.
10 a.m. I go right to my office, a finance job, from the airport. I had a rough few months with clients, but I just closed a deal where I earned almost everything back. I would really like to celebrate with Estella. She runs a really successful nonprofit. I wish she would be more charitable to me!
1 p.m. My work buddy is constantly going out and banging women. I've joined him on more than one occasion. Over lunch in Tribeca, we make a plan for this sort of thing tomorrow night. On my walk back to work, I text Estella that I'm back in town. She always takes forever to write back. I prepare to wait.
10 p.m. I'm jet-lagged and get into bed. Shockingly, Estella writes me back. She's at some Italian wine-bar opening and wants me to come. I'm so fuckin' beat, but I write back, "I'm in … address?" I hop in the shower to power through. She does not write back. Welcome to my life.
DAY TWO
6 a.m. I Citi Bike to work. Tons of Estella anxiety. She makes it so hard to see her, and yet I … love her! Just kidding. What I do know is that Estella doth not love me.
1 p.m. My buddy lays out the plan for the night. I do everything I can on these nights to hook up with other girls and avoid thinking of you-know-who.
3 p.m. Estella texts that her phone died last night, blah blah blah blah blah. It takes all my human strength not to write her back. Did I mention we are both 30?
9 p.m. Drinks and ladies with the Wall  Street crew. As clichéd as you can imagine.
11 p.m. I meet a cute medical student. She's a ton of fun. We drink and dance. I take her home.
1 a.m. Medical Student's BJ game is strong.
DAY THREE
7 a.m. I hit Equinox before work because it's the only way to kill the hangover; also, I needed Medical Student to leave my apartment, and a "session with my trainer" sounded nicer than "Just go."
7:30 a.m. I congratulate myself — not for hooking up with a hot, cool, girlfriend-potential type of girl, but for NOT thinking about Estella for the last 24 hours. And yes, I want a girlfriend. I really want a girlfriend.
1 a.m. I grab lunch alone and work on an Estella text. It comes out something like this: "What's your favorite downtown restaurant … 1,2, 3, go!" The plan is for her to respond with an answer, and then I'll write back, "Done, you and me, Saturday night." It doesn't matter where she says: I will get that reservation.
6 p.m. She finally writes back, "El Rey." Fucking El Rey. It's like an avocado-toast café that's only open daytime. Epic fail. El Fucking Rey my balls.
9 p.m. Bedtime.
DAY FOUR
6 a.m. I wake up to see that Estella texted while I was sleeping, but ALSO that my high-school girlfriend, Heather, randomly texted. She must have dumped her boyfriend. Heather — who works in advertising and is a pain in the tuchis but a bit of a nympho — is nothing if not predictable. This is the day things get crazy.
Noon All morning long, I've been text-flirting with Heather. Yes, she dumped the boyfriend. Yep, she wants to "meet up." We plan on something for later. Knowing I have the Heather plan, I have the confidence to try to see Estella. I can always blow off Heather. I text Estella.
7 p.m. Radio silence from Estella, so I move forward with my plan to see, and no doubt have sex with, Heather.
8:15 p.m. I'm literally in my Uber to meet Heather when Estella texts that she's just leaving work and would love to have a drink. Fuckfuckfuckfuckfuckfuckfuckfuck. I text Estella that it would have to be a late drink since I'm at "a work dinner." White lies.
8:30 p.m. I tell Heather I have one hour to catch up because I have a date later. She is pissed. She's been at the bar and is two dirty martinis in. I try to catch up. We end up fucking in the bathroom. It's on the second level of the bar, and surprisingly quite large and private! I fuck her from behind, against the bathroom sink, straight out of a porno. She loves it this way, with the reach-around to the clit. No condom — I pulled out. Before she can pull up her panties, I'm out the door to meet Estella. Heather doesn't mind … she dumped me years ago and has hurt me several times since, and if anyone is the bad guy here, it's her.
9:30 p.m. I walk into Estella's favorite wine bar by her house. She looks beautiful. She gives me a kiss on the lips and is really warm. Does she not realize how often she blows me off and fucks with my head? Is she a master manipulator, or just clueless? I don't care. I fucking love her.
Midnight After a few drinks, we are at her sick apartment and she's riding me with her sick body. Savor. This. Moment. It takes me longer to come than usual because of the tryst earlier on … but I think that works in my favor. Estella doesn't do sleepovers, of course.
DAY FIVE
6:30 a.m. I head to work happy and confused, but mostly happy. Also, I'm wondering if my dick might fall off.
1 p.m. I text Estella that I had a great time seeing her. Meanwhile, Heather wants to know who I fucked and chucked her for. Heather is kind of psycho, so I refuse to reveal any of Estella's precious information.
7 p.m. It's Friday night. After three women in one week, I need rest. I'm sorry to sound like a pussy, but it hurts not to hear from someone the day after you've "made love." It's not right!
DAY SIX
11:30 a.m. I always play basketball with my buddies on Saturdays. They are sick of hearing about Estella. One of them, while shooting, asks me to describe what makes her so "bomb." She's hot, smart, funny, confident … Those are all great qualities, but, as I defend myself, I realize I barely know her. This game serves as something of a catalyst.
5 p.m. I've been on Raya for a few hours from my couch. Because of some deals I've made through work, I was "eligible" to join. I also dabble in Tinder. Like I said, I want a girlfriend! On Tinder, there's this girl from Chicago who just moved to New York for work. I save her in my phone as "Jane Hot 'n' Wholesome."  We decide to meet for a New York slice around 7 p.m.
7 p.m. JHW is very cute, and we have fun eating pizza and walking around the Village for a few hours. I love being spontaneous.
10 p.m. We make out a little on the street, and I Uber her home. I was self-conscious about my garlic breath, but otherwise, a great night!
DAY SEVEN

9 a.m. My parents are driving into the city to take me to lunch. I love my parents and look up to their marriage. In evaluating my last week, I kind of hate myself. A bunch of women, and so much wasted energy on Estella. I have nothing to show for any of it. I vow to take my love life more seriously …
2 p.m. Mid–lunch with my parents, Estella texts. You can't make this shit up. She is throwing a dinner party tomorrow night for some friends in town from San Francisco. She wants me to come. That's a big invite. It feels close to boyfriend-ly. I end up telling my parents all about her. Mom does me in for good by saying, "Wow, she sounds like a catch." Really, Mom?!
Want to submit a sex diary? Email sexdiaries@nymag.com and tell us a little about yourself.