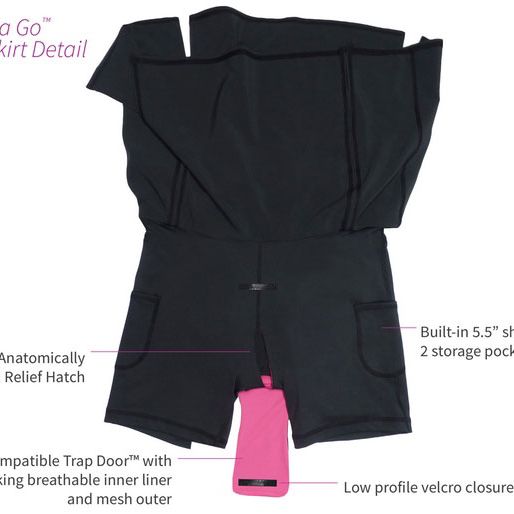 An earlier prototype of the Gotta Go skirt with a smaller "relief hatch."
For runners, and anyone who works out in the great outdoors, sometimes you gotta pee when there are no bathrooms nearby. Anatomically speaking, this is much harder for women than it is for men. We have to pull our bottoms way down and do the deepest of squats so as not to urinate on ourselves. Boulder, Colorado–based women's activewear maker Skirt Sports decided to design a solution to this age-old problem after introducing the concept of a "trap door" skirt in an April Fool's email. It wasn't so much a total joke as a humorous and well-timed test to determine interest. It turns out that thousands of women are interested.
The Gotta Go Running Skirt, which has raised more than $27,000 out of its $35,000 Kickstarter goal, has 5.5-inch shorts underneath and a Velcro-secured flap that reveals a "relief hatch" so you can pee when there's no bathroom — or pee faster when using a porta-potty mid-race. As Skirt Sports founder Nicole DeBoom told Women's Running, the design means "no more flashing the world or losing time doing the struggle dance to get a skirt back on over your sweaty ass."

The Kickstarter campaign runs through November 18, and people who contribute at least $75 will be proud owners of Gotta Go skirts come the spring, when they can pee standing up whenever their hearts desire.