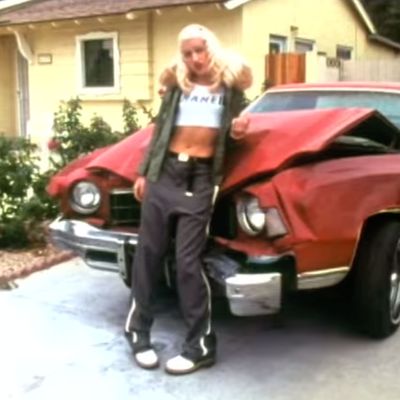 The earliest image of Gwen Stefani that I can remember is her pouting with a creased brow. It's a look that most girls who grew up in the late-'90s can replicate — chin pointed down, eyes looking up, a slight bat of the lashes, and a protruding lower lip. We were first introduced to that face in the '96 video for No Doubt's breakout single "Just a Girl," where Stefani stomps around a room in Dickies and a tank top, falling to the floor at precise intervals to do push-ups, vamp, and then plead woefully to the camera.
That pout, when paired with bleached blonde hair and perfect crimson lips, was packed with a feminine irony and complexity I recognized but didn't yet understand; it looked familiar to me as a young tween because it was the expression girls used to get boys to do what they wanted, which I believed to be a devious act. When I saw Stefani glower into the camera like a helpless kitten, I didn't quite understand. She clearly had everything she wanted, so what was with all this girlish manipulating and posturing?
Tragic Kingdom came out when I was 8, 20 long years ago this weekend. I have a foggy memory of buying the CD at a suburban Best Buy when I was in fifth grade, completely enamored of what and who exactly Gwen Stefani was. "Just a Girl" was still in heavy rotation on the radio (pour some out for Philly's long-defunct Y100) and when I finally got my own boom box, Tragic Kingdom and Sublime's self-titled record were my first eager purchases with my paltry pocket allowance. I was — and still am, to a small extent — hung up on the exotic laid-back lifestyle of elusive, sun-kissed Southern Californians.
Stefani's look was the first thing that drew me to her. On the album's cover she embodied several contradictions: vampy and posed like a model, but holding both arms up to show her strength; her vinyl dress (which was stolen in 2005 by two girls from a museum that had it on display in Fullerton, California) was offset by clownish combat boots; and her chin was raised defiantly. She looked both feminine and smug. She was tough and vulnerable and exciting, and that was just how she appeared in still images. In song, onstage, and in videos — she was a thousand things more. I remember being consumed by the image of Gwen in a breezy polka-dotted dress in the "Don't Speak" video, pleading into a microphone while padding around barefoot. Years later, in my own musical endeavors, I had a number of occasions where this particular aesthetic acted as my greatest inspiration. I still occasionally play barefoot in tribute.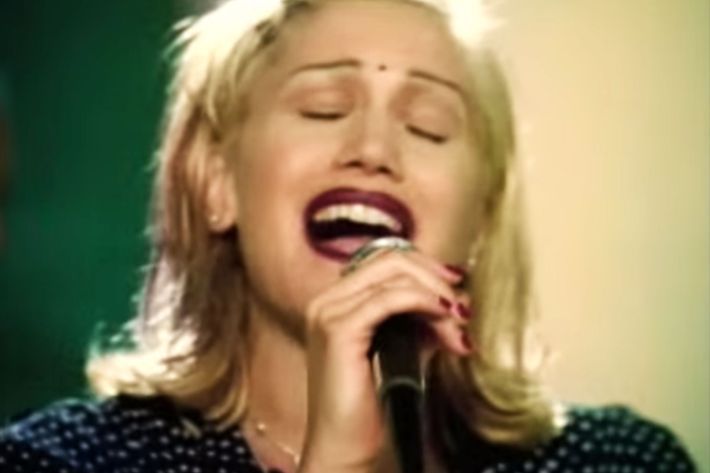 The mid- to late-'90s were an interesting era to grow up in as a woman, especially when it came to music. There seemed to be three main genres played on local Philly radio, none of which excited me as much as No Doubt did: music made by disaffected men playing guitar; boy bands in coordinated pipe jeans; and so-called "angry woman songs" in the vein of Alanis Morissette, Liz Phair, and Fiona Apple. I fell hard for Lauryn Hill and the Spice Girls, but there was no one I loved as much as Gwen, no other artist who was as exuberant, as confident, as complicated, even as irritating to me. When she bent and gyrated onstage in a slick sheen of sweat, she was the infallibly cool and confident rock star, while managing to reject everything about that stereotype and its implied masculinity.
No Doubt's first Rolling Stone cover story was published in May of 1997. In it, Stefani talks openly about her painful breakup with bassist Tony Kanal, whom she dated from when the two were teens until around the time the band began writing Tragic Kingdom. "'If we break up,'" Stefani recalls in the piece, "'how can we be in a band together?' I was, 'If you even see a girl in front of me, I will kill myself. How can we hang out each day, and I can't touch you?' And that's why we stayed together for such a long time: because he was such a good friend to me that he could never hurt me. Even though he was already killing me, just by me knowing he didn't want to be with me."
That kind of honesty and vulnerability from a major artist during the late-'90s felt rare and special to read in print. One of my favorite cassettes before I had even heard of No Doubt was Sheryl Crow's self-titled record, though I admit I had no idea what Crow meant when she sang, "Well, okay, I still get stoned." Releases by women at that time were often dark and "angsty" and intended for social-justice-leaning college freshmen, and I recognize now that it was too soon for me to become jaded. (I saved that for my 20s.) Gwen Stefani was accessible to an 11-year-old on the precipice of learning the hard truths of American female teenagehood because she was insecure and available. She was going through shit, too, and she used her position as the frontwoman of one of the most successful mainstream bands of the time as her very public therapy.
And that's why "Just a Girl" meant so much to me, and hugely still does. Stefani appealed to a younger crowd of nascent feminists, who internalized her flirtatiousness and unwavering power all at once. "Just a Girl" was a master class in throwing patriarchal values back in the face of men, a tactic Stefani not only wielded in her lyrics, but in that girlish pout that had me bewitched as a kid. "Don't you think I know exactly where I stand?" was such an aggravating question as I was growing up that it forced me to want to prove Stefani wrong. She modeled many of the various identities young women could possess, as if to say, "You don't have to be one-dimensional. You can be all of these things at once. Don't let them box you in." The phrase "I'm just a girl" remains one of the most sarcastic, side-eyed four words I've heard in music to date. There was no such thing as being just a girl.
The reviews of Tragic Kingdom that came out at that time were predictably backhanded. Music criticism was a field populated by men, and it is obvious how much it pained No Doubt's reviewers to take Stefani seriously as a frontwoman — in one review she is called "leggy" and in another, a "peach"; her lyrics are described as "coquettish" and her presence "hebephrenic." In the worst of them all, an Entertainment Weekly column published on August 2, 1996, David Browne rounds out his C+ criticism with "Sex still sells, even when it comes to women musicians," lamenting an old advertising tenet that he had the power to upend in his own writing about women. It's funny to read these critiques now. Though No Doubt were a wildly successful (and frequently disparaged) rock band in their prime, I'd never believed that Gwen Stefani was writing lyrics or performing for anyone but herself, and by extension, other women. Sex may sell, but that wasn't why droves of young girls were drawn to Stefani's pouting and flailing and voice.
I think often about the ways in which things have changed since Tragic Kingdom and namely, "Just a Girl," were released. Twenty years seems like a lifetime in 2015, when one day we can wake up without knowing there'll be a new Beyoncé album and the next it's already been reviewed. In the past two years alone, we've seen more of the most invigorating moments for women in pop culture than we've witnessed in history. While it's still a stupid taboo to consider oneself a feminist, it's encouraging that "Flawless" and "Love Myself" exist in the Drake-saturated pop pantheon; that Sleater-Kinney reunited; that we have Janelle Monaé, Peaches, Lizzo, Downtown Boys, FKA Twigs, Palehound, the imminent return of Missy Elliott, Girlpool, the Queen Nicki. It is quite a time to be alive as a woman, and while I don't keep up with Stefani the way I used to, I still love that image of her pouting just as much now as I did when I was 10.
At the end of No Doubt's '97 Rolling Stone story, Stefani says that Kanal was ready to leave the band after he had dumped her, but Stefani insisted that he stay, that she would never let him quit over something like that. "Did you offer to leave, too?" her interviewer asks. "She laughs. 'Fuck, no.'" Good. A No Doubt without Gwen is too tragic to even imagine.