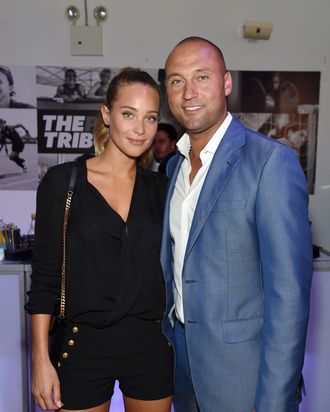 Mazel tov!
Photo: Jamie McCarthy/Getty Images
Hannah Davis, a swimsuit model who (like all of us) hates the gym, has reportedly accepted a proposal of marriage from her boyfriend of three years, former Yankee Derek Jeter. Mazel tov to the happy couple — may their days be gymless and long.
Jeter, 41 has been linked to nearly every woman under the sun, including but not limited to Mariah Carey, Minka Kelly (a former ex of three years), Jordana Brewster, Vanessa Minnillo, Jessica Alba, and Scarlett Johansson. Davis, who is 25 and recently covered the Sports Illustrated swimsuit issue, is very beautiful and has been known to use boxing as a way to get in shape. Jeter has never been married and has no children, but he did tell Brandon Steiner on a sports-marketing panel in 2014, "I just know that I personally couldn't have done it while I was playing. I was too selfish to be able to juggle a family and kids. But I look forward to it happening."
Congratulations, Jeter, on marrying up. Who says you can't keep winning after retirement?