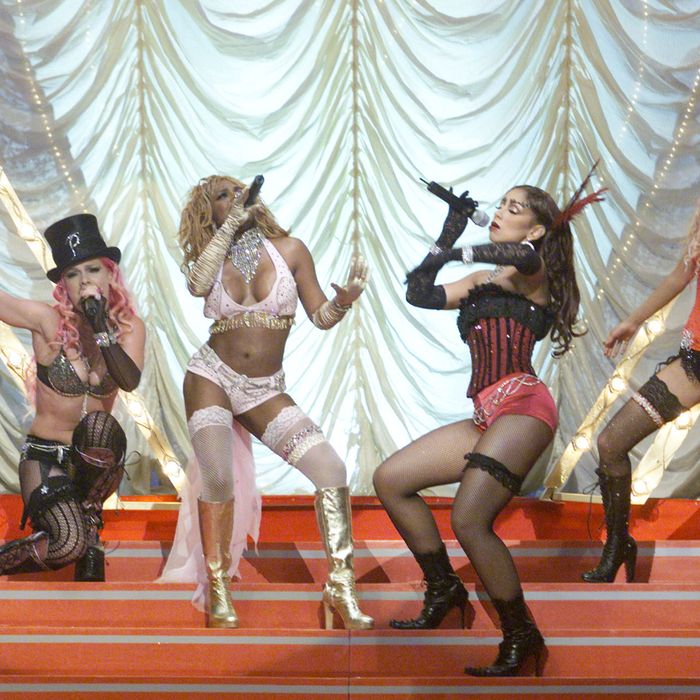 The Dream Team at the 2001 MTV Movie Awards. Why mess with perfection?
Photo: Kevin Winter/Getty Images
Ah, "Lady Marmalade." In 1975, LaBelle did the original strut.
In 2001, Dream Team Moulin Rouge (Christina Aguilera, Lil' Kim, Mya, and P!nk)  gyrated and belted a cover of the song up the Billboard charts.
And now Rita Ora wants to enlist a new army — Miley Cyrus, Iggy Azalea, and Charli XCX — to destroy our memories.
The singer, who is currently, finally, working on her first major album, is trying to round up her girls to upgrade (downgrade?)  the famed disco hit for 2015, she tells the Sun.
Rita. No. Please. Why undo what great women have already done? Best-case scenario, this collab will turn out like the All Saints cover of the song. (Remember that? Exactly.) But if this particular crew of ladies must have a collaborative project, here are a few songs that might benefit from their … special touch:
3. "Standing Outside a Broken Phone Booth With Money In My Hand" — Primitive Radio Gods
4."MMM MMM MMM MMM" — Crash Test Dummies