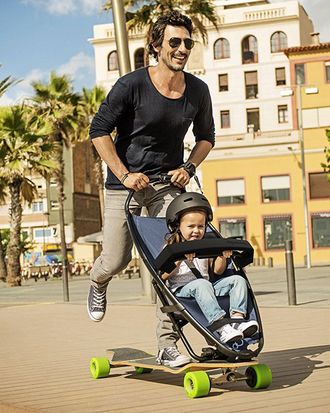 Who me? I'm a hot dad.
Photo: Courtesy of Quinny
Strollers. They're so lame! They're for regular dads with cheese-fry paunches and boring IT jobs. But you, you're not a regular dad. You're a hot dad. And you deserve a hot-dad stroller.
Luxury stroller-maker Quinny spent years developing the longboardstroller, a — you guessed it! — longboard-stroller hybrid that allows men who used to use skateboards to get girls to still feel cool, even though they've settled down into boring adult life.
Moms, of course, are welcome to use the hot-dad vehicle of choice, but we all know no mom would be caught dead on that thing.