Hot New Beauty Trend: Your Own Damn Hair.
Your hair is in this season. It doesn't matter if it's shaved, straight, curly, natural-looking, short, side-parted, or center-parted — it's all on-trend. When fashion month first started, we weren't sure if the celebration of individuality was going to be a trend restricted to just New York. But in Paris, other hairstylists talked at length about designers wanting to showcase individual beauty on the runway this season, rather than creating an army of clones.
"We're seeing a lot of 'real hair.' It probably started from the season before with Céline. But if you were to look at all the shows en mass, it's probably the largest trend," said Guido Palau, Redken's creative director.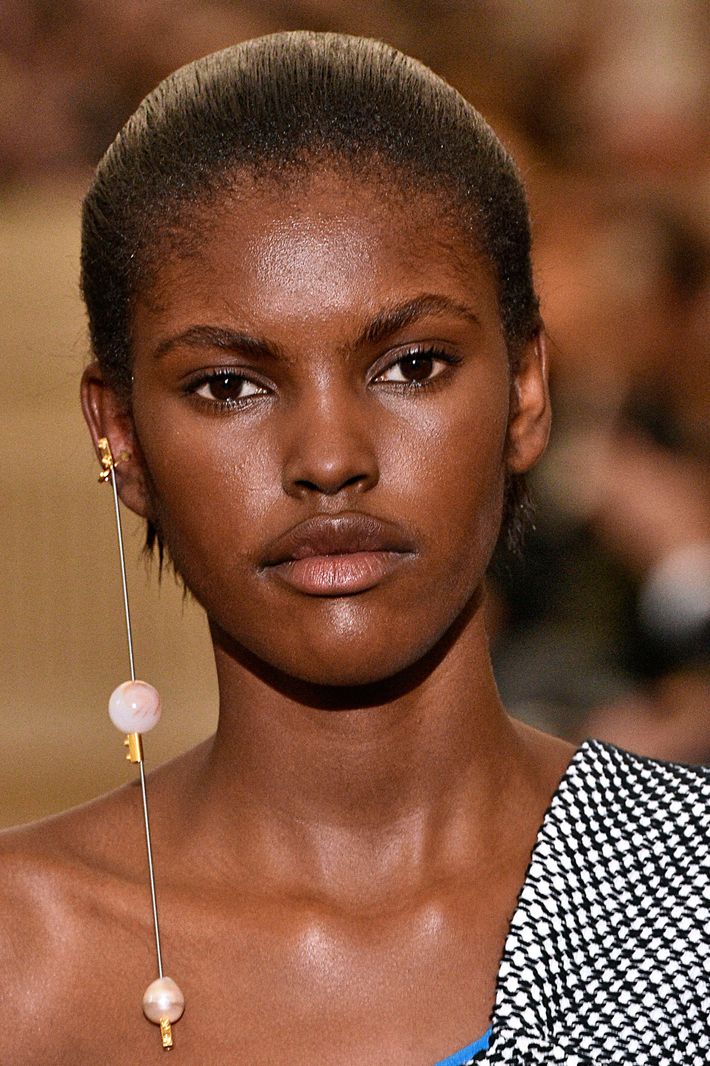 Backstage at Roland Mouret, which was celebrating its tenth season, hairstylist Eugene Souleiman said, "The girls are who they are. There's no special product message here. It's a celebration of women and it says, 'You know what? It's okay to have your own look. You are special. You don't need to be like someone else, unless there's a real reason for doing it.' It's really great." Although a central theme of "fresh, sexy, natural holiday" did link the girls, Souleiman explained, "They just got whatever looked best."
At Giambattista Valli, hairstylist Paul Hanlon echoed the same sentiment. "Giambattista said he wanted everyone individual. The look is so raw that I almost don't need half the team here. It's not the kind of thing where you give them style; it's them as they are."

Of course, it's not as though hair teams have been treating this month as an extended vacation. "Real hair" is still the best version of your hair. As Palau explains, "Hair on the runway is usually achievable and taken from the street and brought back in a more polished, achievable way." Straight hair is smoothed, curls are refined, and frizz is removed. It's the no-makeup makeup of hair: no-hairstyle hairstyling.

Given the politics of hair, it's refreshing to see that individual beauty is being lauded, even if it seems like a non-trend. As Hanlon says, "I think designers are over the clone-y thing of making everyone look the same. Commercially, it's more appealing to a wider audience, looking at a variety of women. They can see themselves somewhere on the runway." Some people might read that as cynicism, but it's also nice and empowering that a hair mandate like '40s waves isn't being shoved down people's throats.
"Women might look at this [trend] and think, What is that? But it's their hair taken on the runway. It's more about the attitude, confidence, and embracing your own kind of beauty," said Palau.
Souleiman added, "Sometimes you have to please other people and that's fine, but you have to please yourself first." Here's to pleasing yourself with whatever you decide to do with this anti-trend trend.