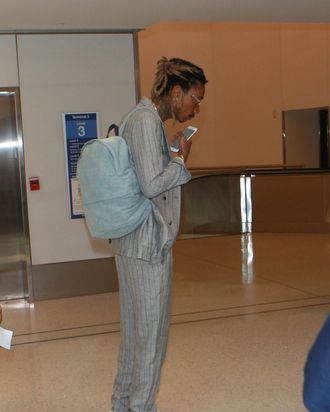 Wiz Khalifa.
Photo: GVK/Bauer-Griffin/2015 Bauer-Griffin
Just like the precariousness of the creation itself, hoverboards have been straddling a balance between acceptable and groan-worthy since they started on city streets not long ago. Now, they border on the criminal. Will the hoverboard become an integrated part of our transport options, or will they be only for outlaws? If the London Metropolitan Police have anything to do with it, the end of hoverboarding starts now.
They sent out a tweet on Sunday to warn the public:
Within the current regulations, hoverboards have always been illegal to ride on both the streets and sidewalks of the gray city. Because hoverboards are technically motor vehicles, riders ostensibly have to register, insure, and be licensed to ride their boards anywhere within city boundaries. This is probably one step too far for any guy with a minor interest in robotic footwork, especially since there is a chance riders will get slapped with a fine for breaking the law.
But the question still remains: Would you bone a guy riding a hoverboard (legally or not)?