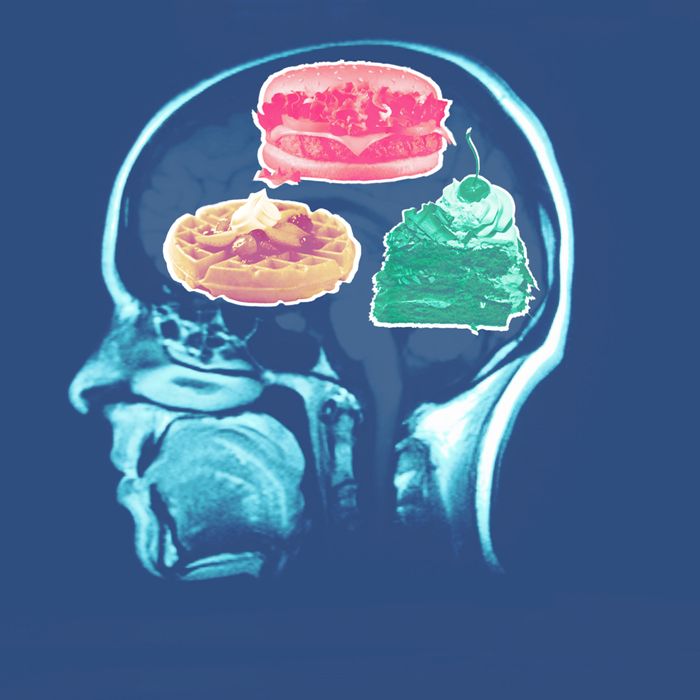 Photo-Illustration: Photos: Corbis
Many people are now so obsessed with photographing their food that it's actually getting a bit annoying — you're trying to have a quiet, romantic meal and meanwhile someone at the next table is taking paparazzo-style shots of their sizzling starter. Out of desperation, some New York restaurants have even resorted to banning diners from taking snapshots of their dishes.
It's all part of a wider change in our culture in which pictures of delicious-looking food are increasingly ubiquitous. Dubbed "food porn" or "gastro porn," the typically high-res images can be found in the cookbooks that top the best-seller lists at Christmas, on Instagram and Twitter, and in commercials and magazine ads. Looking but not eating may seem like a strategy for losing weight. But the trouble is, experts say the food that we're gazing at is usually high in fat and it's changing our eating behavior for the worse, making us constantly hungry and leading us to consume more of the wrong kind of calories.
What's going on? An international team of psychologists and neuroscientists led by Charles Spence at the University of Oxford has written a review in the journal Brain and Cognition explaining the ways in which this sort of intense food imagery hijacks our brains, especially when we're hungry.
For example, consider first a 2004 brain-imaging study with people who hadn't eaten for around 20 hours. The sight and smell of yummy food sent a massive jolt through their hungry brains, increasing their neuro-metabolism (the amount of energy consumption in their brains) by a whopping 24 percent compared with a baseline condition in which they lay in the scanner talking about their family while looking at and smelling photos of people and nature scenes. In the food condition, their brains were effectively panting and drooling in anticipation. The finding is all the more staggering when you consider the human brain already uses up around 25 percent of the entire body's energy allowance during normal circumstances.
According to Charles Spence and his team, the simple truth about the brain is that it evolved in large part as a way to direct us toward food, to help us hunt and forage for our elusive next meal. That's why we find merely looking at tasty food so rewarding, never mind eating it — a phenomenon they term "visual hunger." Today, food porn acts as a kind of "super-stimulus," overloading a system that was built for a different age when you had to cook your supper on a fire rather than pop it in the microwave.
Unfortunately, it's the high-fat, heart-attack food that really gets your brain worked up. Another study used a reaction-time task to show that high-fat food photos were much more effective at grabbing people's attention than low-fat foods. After a high-fat pic appeared on one side of a computer screen, viewers were much quicker to press a key to indicate the location of a simple circular target that appeared on the same side. This suggests the participants had apparently detected the fat content of the food quickly and automatically, and when it was high, their attention was rapidly deployed to the area.
Also worrying, from a public-health point of view, is that there's evidence the brains of obese people are particularly sensitive to the sight of food porn. A meta-analysis of brain-imaging research published last year (so-called because it combined the results from many previous studies) found that obese people's brains are activated more powerfully by food pictures than the brains of people of healthy weight. This was especially the case for high-fat food, and whereas the brains of healthy-weight people were less titillated by food when they were sated, obese people's brains tended to be food-responsive whether they were hungry or not.
Fortunately, the latest neuroscience research in this area is also providing some practical insights. For instance, a brain-scan study presented at a consumer neuroscience conference in Florida last year (cited in the review by Spence and co.) found that obese people's brains were activated more than slim people's brains when they looked at pictures of healthy food at the same time as thinking about how tasty the food would be; the slim people's brains, by contrast, were activated more by the pictures when they thought about the health benefits of the food. The implication, say Spence and his co-authors, is that healthy food might be more effectively promoted to overweight people by emphasizing its tastiness rather than its health benefits.
Spence and his team say they've written their review to provoke a wider debate about what food porn is doing to our eating habits. Given the powerful effect that tempting food imagery has on the brain, what role does it play in the obesity crisis that's afflicting rich western nations? One clue comes from a study that found people who cook their own food after watching cooking  shows tend to have a higher body weight (as if they're encouraged by the TV shows to cook higher-calorie food). But Spence and his colleagues say we need to explore this issue much further, especially as technological advances are affording us ever more ways to experience "virtual food" in all its glory.
Meanwhile, if all this talk of brains and food is making you peckish, here's a Halloween-themed recipe for "brain cake" on the Bored Panda website. Warning: Things could get uncomfortably meta — while you're drooling over the pics of that delicious-looking fondant-based brain tissue, you're going to have to do your best to ignore what effect all this is likely having on your own meaty head-sponge.  
Dr. Christian Jarrett (@Psych_Writer), a Science of Us contributing writer, is editor of the British Psychological Society's Research Digest blog. His latest book is Great Myths of the Brain.