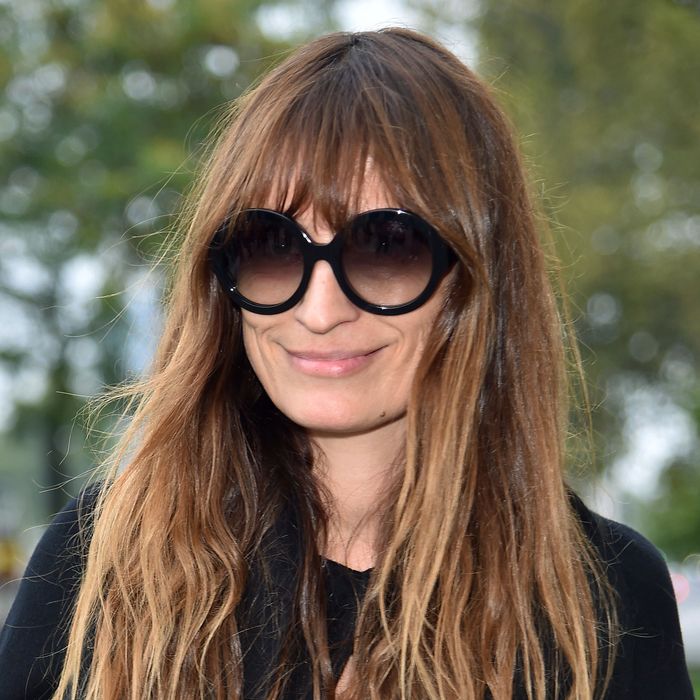 Photo: Jacopo Raule/GC Images/Getty Images
Yet another item on the list of things French women allegedly don't do: Head to the salon every six weeks for touch-ups. "They come two to three times a year," explains colorist Stephane Pous, who has become notorious due to his famous clients like Lou Doillon and Caroline de Maigret. Not only is his salon considered "THE place for Parisian girls" (emphasis Maigret) but an increasing number of New Yorkers make a point of visiting Pous whenever they're in town.
When I went to the salon a few weeks ago, an American model was precisely timing her Uber arrival so that it could dash her to the airport in time for her departing flight — that's how popular Pous is. The salon is located in the Marais section of Paris, hidden in a quiet courtyard. It is so hidden that I wandered into four different doors before finding Pous, who giggled and told me that he saw me walk by the door twice. His salon is a loft-like space where he works with two assistants. There's no more than one hairdryer going at any time, and it's quiet enough that I kept falling asleep in the chair.
"So what do you think?" I asked Pous, a tall man with a punkish haircut who spends half of his time doing editorial and client work. (Non–French speakers should note that he's fluent in English and spent three years in New York at Bumble & Bumble.) He had just spent a whole month coloring hair for L'Oréal Paris commercials, estimating that he and his team had colored up to 200 meters of hair. He's also the man responsible for the blonde and platinum hair color in winter's Acne campaign.
"It's a bit too sunny," he said of my hair, which had grown out into a slight ombre. "We need to reduce the color contrast. The top is too dark and the bottom is too warm, so we need something in-between." Pous proposed lightening my base but darkening my highlights into a more fall-appropriate color.
"Harmony" is how Pous describes his approach to color, meaning that he colors your hair to give you your best look. "I look at your tan, your eyes, your skin," he tells me. Having seen zero examples of beachy hair while walking around Paris, I suspect "sun-kissed" is not a common hair-color request in that land-locked city. By looking at your skin tone, he decides if you look best as an ash or golden blonde, or as a more chestnut or chocolate brown. If the client disagrees, Pous says, "I show them." From his commercial work, he has hundreds of differently colored wigs which he pulls out for clients as representations of color. It sounds simple enough, like something all colorists should do. But Pous's subtle, artistic touch and 360-degree approach to hair color are what makes him special.
Pous's salon is like a United Nations of hair-color products, all chosen for maximum effectiveness. There's bleach from Germany, hair color he hand-mixes from Australia (some of the other brands don't allow him to mix, and the colors are too formulaic), and French haircare (Leonor Greyl, the eminence grise of Parisian hair products.) Pous began by painting bleach on my hair for balayage highlights in delicate stripes, but taking care to avoid the roots and adding a touch more bleach towards the top of the hair. "I see from your hair that I have about 3 centimeters from the root to work with, and from there I go down the shaft doing more and more and then less and less toward the lighter ends," he explained. Blending the color in-between is part of Pous's — and French girls' — way to avoid frequent salon appointments. Some hairstylists try to save time by only highlighting parts of your head, focusing on the pieces along the top and the bottom, where the change will be most visible. But Pous doesn't take shortcuts. He laboriously highlighted my whole head. "Because what if you get a haircut? Then it will not be the same," he said.
After highlights came a toner to blend in the color, Leonor Greyl's Creme aux Fleurs hair mask, and then Pous's specialty: A unique clear gloss that he's secretly formulating, which gives the hair that elusive shampoo-commercial shimmer. About two hours and two semi-naps later, my hair was done. "Three hours for highlights is not a good sign," he says when I was surprised by how fast it took.
My hair had been transformed into a smooth brunette with delicately blended strands of highlights. It wasn't so much a hair transformation as no-hair-color hair color. My hair was shiny, glossy, and a shade that it looked like I could have been born with — had God also had time to tweak my highlights. "So when it moves, you see everything," he explained. The rain ruined my simple French blowout, but when I took a selfie in my Uber to text to friends, it garnered bomb emojis and the exclamation that "YOU LOOK SO GOOD AND SO COOL." Other emoji compliments came in with blasts and cigarettes to follow. Depending upon your viewpoint, French beauty might be a hyped-up fantasy invented by American blogs, but emoji compliments for your hair need no translation. You can find out more about the salon here.