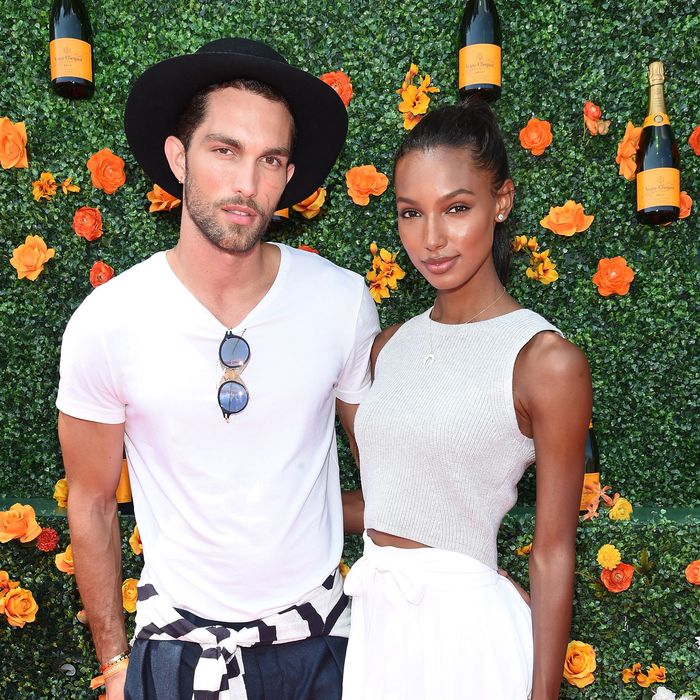 Tobias Sorensen and Jasmine Tookes.
Photo: Jamie McCarthy/Getty Images
In the throes of New York Fashion Week, I met perhaps the chillest models in Manhattan: Jasmine Tookes and Tobias Sorensen. In their Soho hotel suite, they laughed, cooed about their first date, and completed each other's sentences. It would have been nauseating if they weren't so casually adorable, and if they weren't also there to work — as the two new faces of Calvin Klein's Eternity Now fragrances, an eau de parfum for women and a cologne for men. Read on to find out about their dating rituals and how Jasmine takes care of her dreamy skin.
How did you two meet?
Tobias Sorensen: We met in New York through some friends in common at a random night out.
Jasmine Tookes: At a nightclub.
T.S.: I spotted Jasmine right away standing a couple of tables over and I couldn't stop looking. I went up to her finally and introduced myself and asked her for her phone number. Before I left the club, I went back to her and told her that I'd love to take her out for coffee if she was interested. She goes, "Uh, can I see your phone again? I believe I may have typed in the number wrong." She had given me a fake number at first! After the club, we would see each other out randomly in the city, but she was playing really hard to get. I would text her and she would wait three or four days to respond.
J.T.: Or not respond at all.
T.S.: So things took a while, but then—
J.T.: Two months later we went on a real date.
T.S.: Then things went really fast. We pretty much moved in from Day One. We went on vacation together to Turks and Caicos two months into our relationship. We walked into our hotel room in Turks and the bathroom, the whole shower was this glass cube. You could lie in bed and literally watch the other person shower. We barely knew each other.
J.T.: So awkward.
T.S.: Jasmine called her mom, and was like, "Shit, there's this glass shower and no privacy!"
J.T.: I was nervous.
T.S.: I was happy, a happy boy.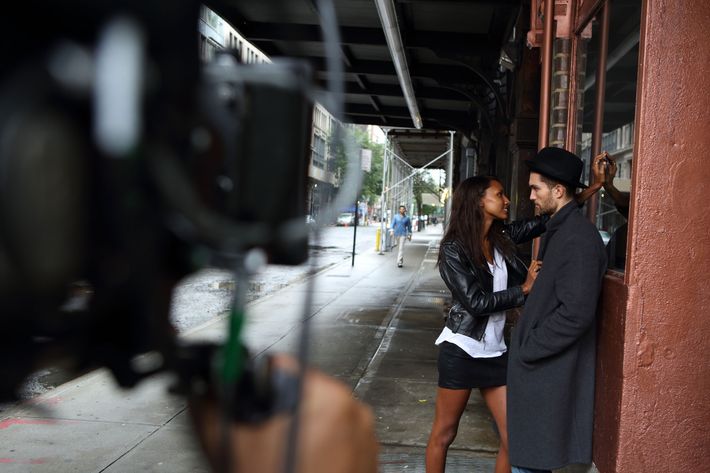 What does Eternity Now smell like to you?
J.T.: The women's fragrance is very fresh and fruity. It smells like you're very clean — like you just stepped out of the shower on a spring day.
T.S.: The men's fragrance is very masculine, very sexy. It has a twist of sandalwood. It's New York. When I think of Eternity Now I think it reflects me and Jasmine's relationship. I think back to where we met and being crazy in love.
Describe each other's natural scent.
J.T.: [To Tobias] Do you really want me to say? 
T.S.: [Laughs nervously.]
J.T.: He has a good natural scent. He just smells like man.
T.S.: Jasmine is always very fresh-smelling. I guess it's the moisture from her skin; I love that smell.
What is your first scent memory?
T.S.: The smell of cedarwood and fresh grass. My family had a house in Sweden in the middle of the forest, and I remember as a kid, I would wake up in the early morning with the windows open and smell cedarwood.
J.T.: For me, it's sandalwood. My mom always had candles that smelled of sandalwood, so every time I would look for a fragrance I would ask: "Do you have anything that smells like sandalwood?" I love it. It's very fresh to me and musky.
How do you treat your skin?
J.T.: I have a dermatologist in Los Angeles, Dr. Pearl Grimes, and I use all of her products for breakouts or anything like that. Or I like to use vitamin C serum, or vitamin E — the little pill capsules — and you pop them and rub them all over your face before you go to bed to moisturize.
T.S.: She taught me that trick. I use Le Mieux.
J.T.: I also have a little face steamer at home I like to use if I know I'm going to have a big event the next day. I'll exfoliate maybe once a week, but I like to keep everything very natural and not take too much off of my skin.
T.S.: I've never been really focused on taking care of my skin. But as I've gotten older, I've learned to take more care. Jasmine teaches me tricks, like buying more expensive products, but I don't really have a routine.
Which skin-care products do you use on your body?
J.T.: My thing — ever since I was a little kid — is to use baby lotion, like the Johnson & Johnson in the pink bottle, or baby oil. The second I get out of the shower, I lather baby oil all over my skin so that it stays soft and smooth.
What's your holy-grail makeup product?
J.T.: I love a good eyelash curler. I'm a makeup junkie. I love to mix foundations because it's hard to find the right shade. I just fell in love with Armani Luminous Silk foundation and it's golden.
How do you treat your hair?
J.T.: I care about my skin so much, but for my hair I don't use anything special. When I'm not working I try not to put any heat on it at all. But as far as products go, I just use random shampoo and conditioner. I just bought the Kardashian Beauty blow-dry spray. It is amazing. It makes your hair super-shiny. And their dry seed oil — after you're done straightening or giving your hair waves, you run that through and it's really nice. I would never think to use it, but it's good.
Tobias, how did you get the scar on your face?
T.S.: I was attacked by a bulldog when I was 6 years old.
J.T.: And now he has a bulldog.
T.S.: I love bulldogs. I love all dogs. My family bought me a dog pretty fast after that experience for me to get over that fear and face it. I never really thought about this whole industry because of this big scar. On my first day of work at a clothing store in Copenhagen, I was scouted by the men's head booker from Elite. I was in school back then, studying business. They told me from the beginning not to expect too much. But my scar became my trademark. It's just funny how things change.
This interview has been edited and condensed.