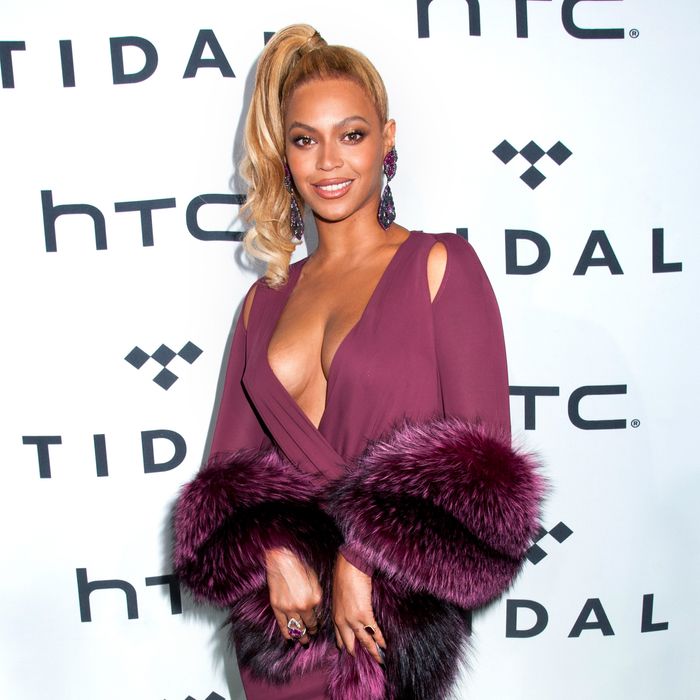 Beyonce is giving you an order right now.
Photo: Janet Mayer/Corbis
Last night at the Tidal x 1020 red carpet, Beyoncé wore one of those dresses that was designed just to stand in: with a high slit that promises to expose the crotch, and a neckline so plunging you might as well write "Hi, Mom" on your nipples.
Naturally, her assistant — eager to assist — stepped in front of the cameras to help Beyoncé with a few adjustments. But this is Beyoncé; the physical world bends to her will; she needs no help keeping things from moving. Instead, she delivered a somewhat-withering "Stop it" without abandoning the cameras for a second. Her assistant quickly shuffled away.
Beyoncé is demonstrating a skill we should all master for those times we want to subtly express an aggressive need for someone to stop doing something annoying.
A quick how-to: Keep your eyes semi-vacant; do not make eye contact with your target. Nobody should know you are speaking to them. And finally, Do not stop smizing or smiling or clenching your teeth as you whisper-hiss your two-word demand — e.g., "Stop it," or "Shut up," or the all-important "Feed me."