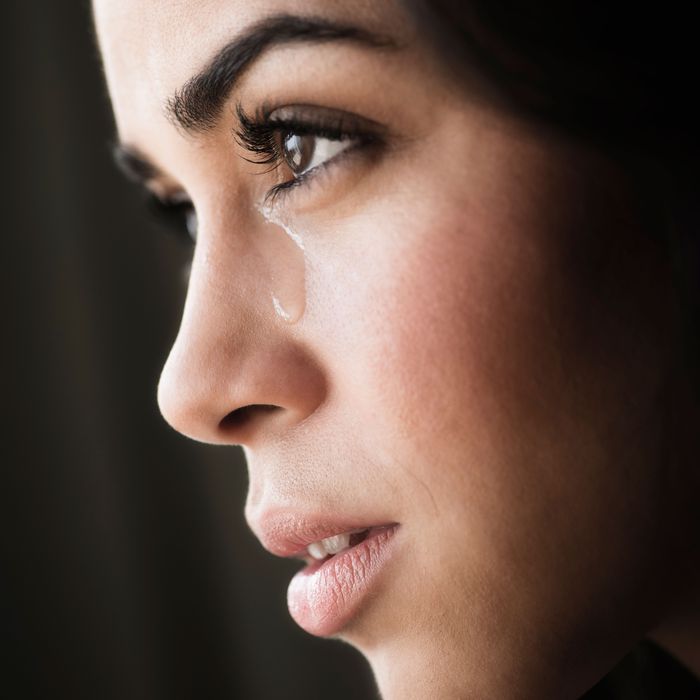 Photo: Tetra Images/Corbis
Because there's no such thing as a dumb beauty question, we're reviving our beauty Q&A series.
Question: My eye cream makes me cry like Dawson. How do I find one that won't make me tear up?
Answer: There are two ways to keep your eye cream from becoming a real tearjerker: by picking a better formula and being aware that your eye cream has a passport and will travel.
According to Dr. Whitney Bowe, eye cream can migrate as it absorbs into the skin, getting inside your eye and causing irritation. She recommends applying your eye cream at least a half-inch away from the eye so that it won't wind up coating your eyeballs.
If your eyes are as sensitive as Drake, look for fragrance-free, hypoallergenic formulas containing calming ingredients and gentle botanicals like aloe, chamomile, and calendula oil. Bowe says that this type of formula will help ward off itchiness, redness, and watering.
Personally, I find that texture can also make me into an eye-cream crybaby. Try out the cream on your hand. If the texture seems too watery or runny, and you apply it right before you lie down in bed, it can also get into your eyes and cause tears. Creams that are heavier tend not to travel as much since they are less fluid. My mom has also always taught me to apply eye cream using my ring finger (it puts less pressure on your delicate eye area) and pat it in to make sure it absorbs, putting a stop to most of the jet-setting woes. You can use this GIF tutorial as a reminder.
Dr. Bowe likes gentle eye creams that do double-duty by also target specific problems, such as RoC Retinol Correxion Sensitive Eye Cream. The slow-absorbing retinol won't cause irritation, yet can still help to target fine lines and wrinkles. If you want an eye cream that addresses under-eye bags and puffinesss, she also likes La Roche-Posay's Hydraphase Intense Eyes, which has moisturizing hyaluronic acid but also a cool, gentle, gel texture. I also like Kiehl's Midnight Recovery Eye Concentrate, which is a nice mid-weight eye cream that won't travel as much around the eye. And if you want a truly outrageous eye cream that makes you feel like a Middle Eastern princess, you could try Sisley Paris's at Night Supreme Anti-Aging Eye Serum. It's the Maybach of creamy eye products, but be warned: The price tag may make you cry.