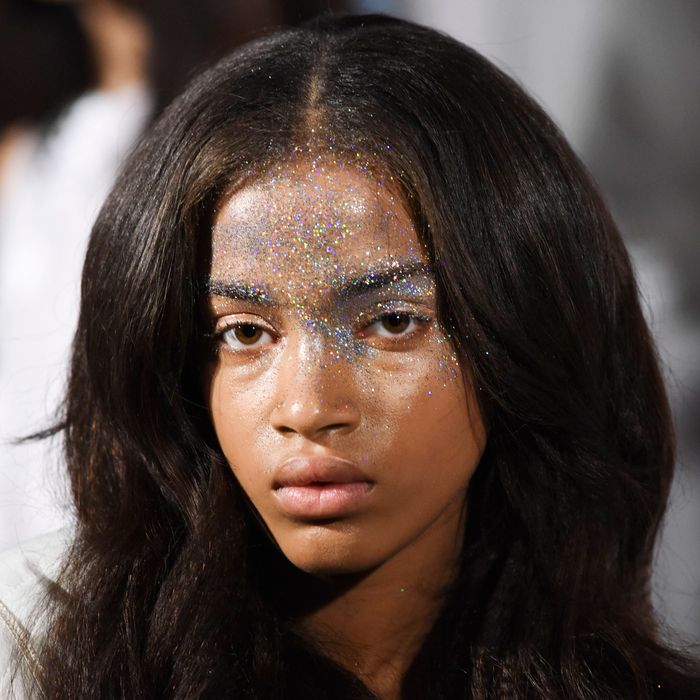 Photo: Vivien Killilea/Getty Images
Because there's no such thing as a dumb beauty question, we're reviving our beauty Q&A series.
Question: I want to wear a ton of glitter and confetti on my face for Halloween. Like old Ke$ha, glitter-terrorist-level amounts. How do I do it without getting a rash or getting it on everything?
Answer: Don't worry — glitter is a Stage 5 clinger. It's going to stick to you more than you're going to want to stick to it. Let's start first with what kind of glitter to buy: Do not scrimp by going to your craft store and buying craft glitter. This is especially important if you are going to stick it anywhere near your face, since craft glitter is often made of glass or plastic bits that you do not want scratching your eye. Reddit users also often like to point to this glitter allegory: a user who allegedly lost an eye after craft glitter flew into her eye from playing with her kid. Urban legend or not: Just don't do it. Buy glitter that is meant for makeup and your face, such as these from M.A.C or Make Up For Ever Glitter or Diamond Powder.
Pat McGrath allegedly uses Spirit Gum, an adhesive used in costume work for attaching fake mustaches to the face. It's a little hard to find, though. Some also suggest eyelash glue like this from Duo, but this can dry very quickly and works better if you are gluing on individual pieces. To create the glitter eyes seen backstage at Giambattista Valli, glitter lover Val Garland used M.A.C Mixing Medium Eyeliner, drew it into the shape that she desired, and then pressed glitter onto the shape. In a pinch, you can also use a clear hair gel like this L'Oréal Paris Studio Clean Gel or try Vaseline (but it may not be sticky enough).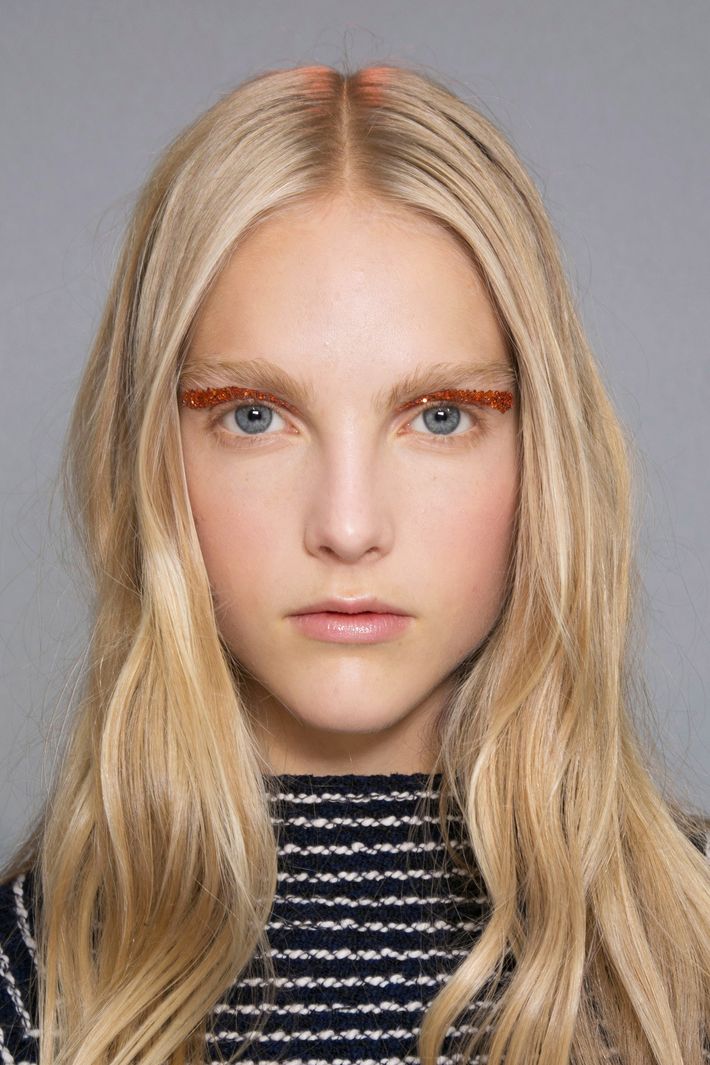 Now to remove: Glitter is the great equalizer. Even if you are Serena Williams, it will get everywhere. If you are a bearded man and your beard becomes full of glitter, I'm sorry to say that it is now a goner. It's never coming out or it's going to take centuries and you're most likely going to have to shave it off to remove every single mica particle. For your face, don't wash your face first or the glitter particles will get stuck along your hairline and to random places that will be impossible to get. Find surgical tape, which is the preferred way for makeup artists such as Dick Page to remove glitter and use that to remove as much glitter as you can. It won't leave tackiness on your face but will catch glitter. In a pinch, good old Scotch tape also works. Now go forth and be your best Billie Frank tonight.