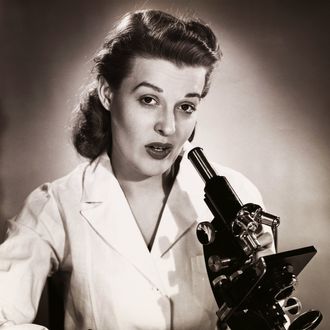 There's a lot more attention these days afforded to encouraging girls and young women to pursue careers in science and technology than there used to be, and for good reason. According to recent estimates, less than 25 percent of jobs in STEM (that is, science, technology, engineering, and math) are held by women. Getting more women interested in the sciences is a worthy goal — but what happens once they actually begin those careers? 
A recent paper in the Journal of the American Medical Association has a discouraging answer. Young male scientists get a substantial financial leg up at the beginning of their careers, receiving a median of $889,000 in start-up support for their first project from the research institution they're affiliated with. That's more than twice as much as the $350,000 typically received by women, reports the Boston Globe.
The research focused only on Boston-based biomedical research centers because this is where many of the big ones are: Harvard Medical School, Brigham and Women's Hospital, and Boston Children's Hospital, to name just a few. Included in the report were estimates from more than 200 young scientists at 55 research centers across that city. 
And this finding is a big deal because this is the money that these brand-new scientists use to build out their labs. It buys them a little time, giving them enough cash to get going on their research as they wait for additional funding from federal or private sources. "These are the things that make your career hard or easy," Nancy Hopkins, a retired MIT professor, told the Globe. "[Women] are going to have to work harder to make up for that." As a result, much of the rest of their careers will be devoted to playing a maddening game of catchup.