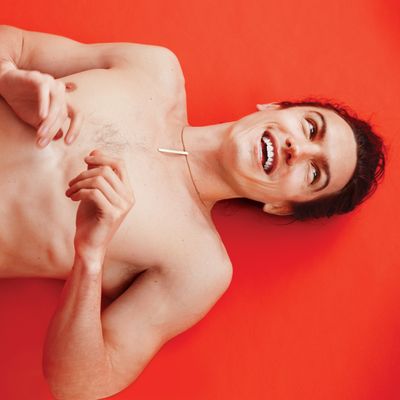 "I've been mistaken for a girl a couple of times. But it has shed some light on what women have to go through — I've been catcalled."
Photo: Erik Madigan Heck
Everyone is treated a certain way based on how they look. I don't think I'm treated too bad. Some people, you get the vibe that they just want to sleep with you or take advantage of you. But some people are genuine.
Until I had my growth spurt, I was pretty scrawny and short. I never really saw myself like a model. I didn't realize it back in high school, when some of the upper-class girls were coming on to me. One of the first comments I remember getting was "You have amazing eyebrows." At that time, I thought that was pretty strange. People comment on my appearance a lot. Girls especially appreciate the long hair. It's given me somewhat of an androgynous vibe. I've been mistaken for a girl a couple of times. But it has shed some light on what women have to go through — I've been catcalled. Sometimes people say things like, "I guess as far as women go, you probably have your pick." I haven't really dated many models. I personally find beauty in more than what's prescribed in the commercial world. People think models aren't very intelligent. That frustrates me, because there are a lot of artists out there who just happen to be picked up as models, where they were already pursuing something else. A lot of times I get in a conversation with someone and they're like, "Wow, you're nothing like what I thought a model was like." I don't worry about aging, because I think I'll be taken more seriously when I'm older. When you're younger and you're a good-looking guy, people are like, "Oh, enjoy it, and have fun." But they assume you probably don't have everything quite figured out.
Uniqlo jeans, $50, at uniqlo.com. Gypsy Sport boxers, $55, similar styles at gypsysportny.com.
Styling by Lester Garcia.
*This article appears in the November 2, 2015 issue of New York Magazine.